Snoop Lion tells Leena Tailor about his transformation from canine to cat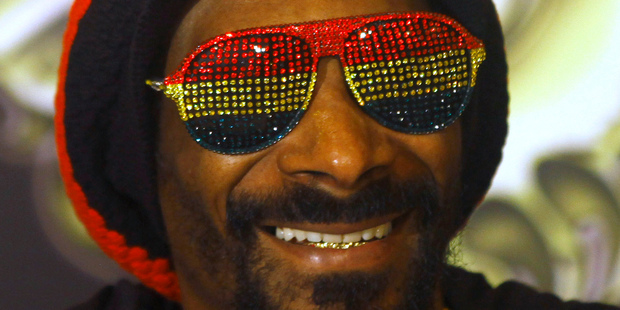 Enter the lobby of Serenity West Recording on Hollywood Boulevard and one is engulfed with the smell of marijuana. Venture further, into a studio, and Snoop Dogg sits hunched over his phone, wearing dark sunnies, a jewel-encrusted lion pendant and a rasta beret. "We're ready now Snoop," informs a minder, prompting the multi-platinum rap icon to swivel around, while smoking a joint.
Add the name change to Snoop Lion to this scenario and it's hard to take the 41-year-old seriously, but the next 20 minutes reveals intelligence, wit and humility as the musician discusses the ever-changing music industry, fatherhood, grief - and his reincarnation.
Deciding he's Bob Marley reincarnated and heading to Jamaica to channel the reggae legend may seem absurd, but after an often controversial 21 years in rap, Snoop needed a change.
"I've always been one who's different and ahead of the cut and I felt like I wasn't doing that no more with rap," he says. "I had done all I could do. I started hearing myself saying the same things. Reincarnation, to me, means being born again and given an opportunity to be in the likeness of someone who was here before, continuing their spirit."
Marley's home of Trench Town was the setting of Snoop's album recording, a process captured by cameras for the doco Reincarnated, about his life, reincarnation and the new record.
Snoop worked with dance music icon Diplo, a dynamic he believes paralleled Marley and the Wailers teaming up with Island Records founder Chris Blackwell to record their first studio album, 1973's Catch a Fire.
"You've got a white guy from a different part of the world and black guy from this part of the world making this style of music, but when they come together you can't tell who is who. You don't know who's the black guy and who's the white guy! It just felt good and to me, that's what it's all about. When I said I was Bob Marley reincarnated I meant it and that's why this whole parallel is so close to it."
The record also features collaborations with Miley Cyrus, Chris Brown, and Snoop's daughter Cori B who, along with Drake, sings on No Guns Allowed.
Guns and gangs are something Snoop was closely associated with during his early days carving out rap music with close friends and late rappers, Nate Dogg and Tupac Shakur. He's still haunted by their deaths, which have motivated him to "do better and do right", as he delves into reggae and its messages of peace and hope.
Although many are quick to laugh off the name change, the idea came after a visit to a Jamaican temple where the high priest declared to Snoop, "You are not a dog. You are a lion. I'm changing your name to Berhane."
The word means "light of the world", a more fitting reflection of his new sound.
"Snoop Dogg and reggae music don't match. 'Snoop Dogg' is too violent, negative and gangster so I want to keep them separate."
While Reincarnated doesn't spell the end of Snoop's rap career, for now the married father-of-three, who plans to visit New Zealand with the album, is enjoying a sunnier side of music and isn't bothered by those doubting his credibility as a reggae artist.
"Nobody owns the right to reggae music. Music is a universal language, you can express yourself no matter who you are. I'm giving reggae the attention it deserves, so there should be appreciation not hate, but any time you're doing what you're supposed to do, hate comes with it. So to the haters that hate me I just wanna say, 'I love you'."
• Snoop Lion's album Reincarnated and the accompanying DVD are out now.