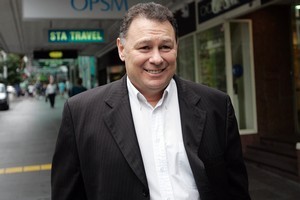 Bankrupt Blue Chip founder Mark Bryers could go before the Australian courts to answer questions about the failed property empire's vanishing millions.
This month, Northern Crest Investments, the last surviving Blue Chip company, was put into liquidation by the High Court at Auckland.
The New Zealand-based liquidators, Anthony McCullagh and Steve Lawrence of PKF Corporate Recovery, say they hope Bryers and others will appear in Australia to answer questions as part of a wider investigation of Northern Crest.
Northern Crest is listed on the ASX and was previously called Blue Chip Financial Solutions and Blue Chip NZ.
McCullagh said Northern Crest was the key to unravelling the disappearing Blue Chip millions and Bryers could hold information vital in recovering funds from the company colloquially known as "son of Blue Chip".
This month, Justice Jayne Jagot of the Federal Court of Australia issued an oral decision empowering the liquidators to operate in Australia, which McCullagh described as "remarkable because she saw the immediacy of the situation".
The liquidators got powers under cross-boarder insolvency law to investigate and question those involved in the business including Sydney-based Bryers, the directors and others.
To fund this first step, they paid A$50,000 from PKF funds but have applied to the Ministry of Economic Development to fund further investigations.
They hope to recover money for Blue Chip victims, who lost about $80 million.
PKF is working with lawyers Kensington Swan on the case.
Dan Hughes, Kensington Swan partner, and associate Katrina van Houtte said they could not say how much could be returned at this stage.
The Kensington Swan lawyers have instructed Australian law firm Norton Rose which in turn has instructed a barrister, Doran Cook.
Cook will seek to put Bryers and Northern Crest directors under oath and question them in the Federal Court.
Hughes predicted investigations would be completed in the next few weeks.
In the liquidators' application to the Federal Court, Lawrence said Northern Crest executive director Laurie Eakin had not co-operated with PKF's investigations, refusing to supply documents. A preliminary investigation of Northern Crest revealed potential voidable payments of up to $1.2 million, Lawrence said.
He presented information showing how Bryers was criminally charged for failing to keep adequate records and said Bryers now lived in Australia.
"And it is widely believed that Mr Bryers is continuing to run a similar scheme in Australia, through Northern Crest Investments. Mr Bryers is a bankrupt and cannot act as a director," Lawrence's application said.
Bryers was closely associated with subsidiary businesses and more investigations of the links were needed, he said.
Hughes said the company had made A$800,000 one year and A$2.4 million previously.
"So we're going to chase that but the end game for us is to bring the directors to account," he said.
In the accounts for the March 31, 2011 year, Northern Crest chairman Marc Wilson mentioned a big fund-raising drive was on so the company could continue, saying how $7 million was being sought so it could strengthen its balance sheet and pay debts.
The company declared a net loss after tax of $2.9 million. The liquidators met Eakin and auditors Hall Chadwick but they found Northern Crest's records and board minutes "woefully inadequate". Their initial report is due next month.
In 2009 and 2010, Bryers pleaded guilty to 34 charges for book- and record-keeping failures related to Blue Chip and associated companies. He was fined $37,500 and required to do 75 hours of community service.
Blue Chip collapsed in 2008, leaving more than 2000 investors out of pocket.
FINAL CHIP
* Northern Crest Investments
* Formerly called Blue Chip NZ
* Mark Bryers is an ex-director
* NZ registered company
* Listed but suspended on ASX