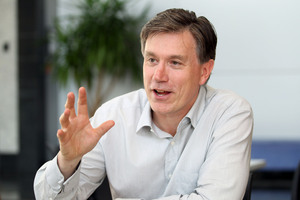 Investors are paying for the privilege of lending their money to the Governments of seven European countries because they are so scared of losing bigger sums elsewhere, says Tower's head of fixed interest.
Speaking at the company's quarterly briefing yesterday, Andrew Lance said that on Tuesday night Belgium had joined other European countries - Switzerland, Germany, Finland, Denmark, the Netherlands and Austria - in offering negative interest on their bonds.
This means investors will receive less money back than they put in when the bonds are paid back.
"It is worse than putting it under a mattress," said Lance.
"People think they will just lose less money [in the sovereign bonds]. It is a phenomenon we have never seen before."
Lance said rates on Government bonds in New Zealand were also getting tight but remained positive.
The situation has prompted Tower to move its investments away from short-term fixed interest into direct investment in commercial property.
Tower's head of investment, Sam Stubbs, said New Zealand remained a good place to invest in a world that was seeing sub-par growth.
Stubbs said that four years ago it was financial leaders pulling the levers on the markets but now the power was in the hands of politicians.
In the United States it was President Barack Obama and in Europe German Chancellor Angela Merkel.
"The normal levers do not apply. We are in the hands of the politicians."
Stubbs said there was a vacuum of power in the US coming up to the election as well as a pending financial cliff while Europe still had deep divisions over the sovereign debt crisis.
He said he did not believe there would be stability in Europe until there was an agreement for a deposit guarantee scheme across all banks.
There was also ongoing fear of slowing growth in China amid uncertainty about a change in political power. Stubbs said the world had "one hell of a party" in 2007 and 2008 but it was now faced with a huge hangover.
Many analysts were in the process of downgrading their global growth forecasts, he said.
But he believed New Zealand remained a "really good place to be" because of its low sovereign debt levels and demand for its key exports.
"We are still selling the things people want. There is no indication those things will fall off a cliff."