German performer Tobias Wegner challenges the laws of nature in Leo, reports Stephen Jewell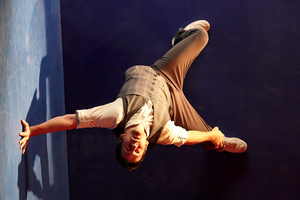 It will be hard to know where to look when you see Tobias Wegner's breathtaking Leo, a leading act in the Auckland Arts Festival.
Returning to New Zealand after a sell-out season at last year's NZ International Arts Festival in Wellington, the delightfully simple 65-minute performance finds the Berlin-based acrobat performing within a room-shaped stage while his actions are projected on to a video backdrop immediately alongside him, from a distinctly different angle.
"Our approach is to never have any trickery, so it's like we're putting real life up there on the screen right next to me," he says.
"Everybody in the audience knows what's happening and it's almost like they've become shareholders of the secret, which makes it much more funny, because it's so stupid, really.
"You see the guy working hard in the push-up position, but on the screen it looks so easy. It's an interesting contrast and it's also the same the other way around.
Stuff that looks terrifying on the screen is actually kid's play in real life."
First commissioned in 2008 to fill a last-minute gap in Berlin-based production company Circle of Eleven's latest show, Leo sprang out of the former circus school student's childhood love of trampolining.
"They asked me if I had any material and I said I had this idea about how we could extend this moment of no-gravity - the highest point of each jump," recalls Wegner. "I said, 'Let's set a camera up and film it.' I came up with this short clown act, which was already quite funny. It grew over its one-year run and by the end, they asked me if I could expand it to fill an entire evening."
Wegner worked closely with director Daniel Brire, who constructed a strong narrative. "He has a theatrical background, so he wrote out a little synopsis of what could happen to this character," he explains.
"That was the most challenging part for me, to work with someone who was interested in creating a coherent story, because my focus has always been more on movement. But he was much more interested in how a particular event could change my posture, or how I could react physically to new developments. There were times when we'd have about 40 minutes of material and he'd be like, 'What else can you do?' 'Play a little bit of saxophone?' Little by little, many more elements were included and by the end, I'm doing almost anything except cooking."
His ceiling-climbing antics have been compared to Marvel Comics' famous wall-crawler, but Wegner insists that his warm-hearted humour is much more down-to-earth than Peter Parker's bombastic adventures. "Leo is a very average man while Spider-Man is a nerd who then discovers he has superpowers," he says. "But our show is not in that spirit. It's very poetic and it's nothing extraordinary that Leo discovers."
Wegner says the infectious slapstick that dominates Leo's first half was influenced by Buster Keaton and Charlie Chaplin's classic silent films. "Their comedy was so physical and they were such talented acrobats," he says. "They made use of this universal language about how to move and to tell a story like that. They didn't have the technology to talk in their movies, but they still had great success."
With only a few words muttered throughout the show, Leo also requires no translation. "That physical language and mastership is something that people from all around the world can enjoy," says Wegner. "It's why big companies like Cirque Du Soleil can play everywhere. People are like 'wow!' because there's not that much to understand. Everybody can see what you're doing on stage and it's extraordinary.
"That's one of the biggest strengths of the circus act, to unite the different sections of dancing and acting, and spice them up with a little circus technique."
However, Leo doesn't boast Cirque Du Soleil's spectacular pyrotechnics or its elaborate stage sets. "There's only one camera, which is on all the time," he reveals. "There's no zoom or close-up, or any black and white sequences. There is some digital content, which is added to the live stream towards the end. But I actually interact with a couple of images that Leo has already created, so it's not like it's come out of nowhere. It's really coherent and easy to follow, which is also why it's charming. Like Spider-Man, something arrives like 'Bam!' in the heads of the people, so that they can witness the birth of everything."
Leo was staged in London recently as part of the International Mime Festival, with Frenchman William Bonnet standing in for Wegner, who was working in Australia. It is a hybrid of disciplines.
"There's a lot of clowning and you have to be an acrobat to be able to perform it," he says. "There are no back-flips or anything like that, but it's still very physically demanding because of the stupid postures and the set-up. There's also live music and some dance."
Despite having the pressure of mounting an entire show on his own, Wegner is happy to be in the spotlight.
"I really like having the responsibility of going on stage and having everyone's attention for an hour or so," he says. "If you're part of a circus, you go on stage for five minutes to do some tricks, then you leave. I've been seeking to get away from that structure, that principle, and I was always interested in using the technique as a vehicle to tell a story rather than just showing off. But I totally believe in the piece, and history has proven that it works."

Auckland Arts Festival
What: Leo
Where and when: Maidment Theatre, March 19-24