Miley's dad gets outrage target right, but attack isn't the answer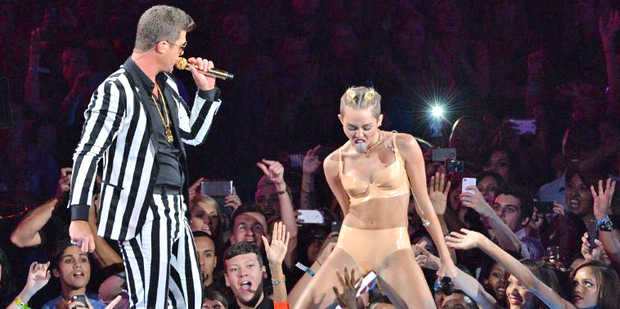 There are times when the affront is so shocking, the disregard for civilised norms so brazen, that journalists must set aside professional objectivity and come off the fence.
While the politicians remained silent or hid behind weasel words, Mika Brzezinski, co-host of American TV network MSNBC's news and panel discussion show Morning Joe, spoke for the nation.
It was, she said, "really, really disturbing, disgusting, really, really bad, really messed up".
Except all that outrage and all those "reallys" weren't in response to the chemical attack on a rebel-held Damascus suburb that killed hundreds of civilians, many of them children. What brought Brzezinski to the boil was Miley Cyrus's twerk-fest at the Video Music Awards.
Incidentally and ironically this is the same Mika Brzezinski who in 2007 staged an on-air protest over the trivialisation of the news, refusing to read an item about Paris Hilton and having to be restrained from setting fire to her script.
Brzezinski has also thrown live hissy fits when required to track the progress of Lindsay Lohan's spiral descent.
Another to deplore Cyrus's performance was Brooke Shields, who played Miley's mother in the Disney TV show Hannah Montana.
Shields called it "desperate" and mere "display" (as opposed to the "genius" that informs Lady Gaga's flesh-baring).
This is the same Brooke Shields who at the age of 12 stripped off to play a child prostitute in Pretty Baby, and at 14 wandered around a Pacific atoll semi-naked for the duration of the creepily voyeuristic The Blue Lagoon.
While Cyrus's critics seem to think she's forever 15, she is in fact 20.
Then there was Cyrus's co-performer Robin Thicke who was left seething at being over-shadowed when she hijacked their duet. Thicke by name and thick by nature not to have seen that coming.
But back to Brzezinski whose absurd over-reaction simply played into Cyrus's hands.
Like every pop star all the way back to Elvis Presley, Miley knows that nothing enthuses and expands her teenage fan base like middle-aged outrage. If it comes with hand-wringing about the mind-warping effect on the young and impressionable, as Brzezinki's did, so much the better.
Not content with blasting Cyrus, Brzezinski also had the impertinence to lecture her parents: "Someone needs to take care of her. Someone needs not to put her on stage and make a complete fool of herself."
Brzezinski and Shields were given a lesson in parenting and keeping things in perspective by Cyrus's father Billy Ray, a country-pop singer best known for the cougar anthem Achy Breaky Heart. Pressed for a reaction to his daughter's performance, he said: "She's still my little girl and I'm still her dad, regardless of how this circus we call show business plays out. I love her unconditionally and that will never change."
When the storm broke, however, and to the bemusement of his Twitter followers, Billy Ray's attention was elsewhere.

"I was watching devastating news out of Syria," he tweeted. "Chemical weapons used on innocent children is unacceptable."
Indeed it is. We are now at the point where Something Must Be Done, even if there's a case for doing nothing.
To intervene now in the manner and on the terms outlined by President Obama is implicitly saying that it's okay to butcher your people by conventional means.
This message will become explicit if, after a punitive strike, the world community reverts to looking on as the Assad regime reverts to bombing, shelling and shooting.
And the likely method of delivering the message - missile strikes, perhaps accompanied by bombing - can be as indiscriminate as chemical weapons with the added collateral damage to infrastructure and housing that makes life even more miserable for civilians.
Calls for military action are invariably accompanied by that abysmal mantra that to do nothing risks loss of face and reveals weakness, as if signing a piece of paper authorising someone to order someone else to press a button that will result in chaos and carnage half a world away denotes strength of purpose and moral fortitude.
It takes far more strength to resist the pressure to make gestures that might get the thumbs up from editorialists and give you a bounce in the polls, but won't necessarily achieve anything and might make a bad situation worse.
But the international community must dissuade the Syrian regime from further chemical attacks. Last year Obama drew a red line in the sand. If crossing that line goes unpunished, Bashar Assad and his clan are entitled to assume they can do whatever they like.
And on this evidence, what they would like to do is beyond heinous.