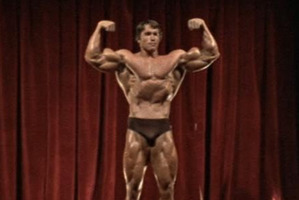 He's baaack. Yes, folks, Arnie Schwarzenegger - who gave us the Terminator movies, plus one of the most surprising political victories as Governor of California, and an even more surprising child out of wedlock with his housekeeper - is back.
But not, mercifully, as a political force. He appeared in public recently with a new partner, San Francisco 49ers quarterback Craig Kaepernick, peddling his new line of supplements and vitamins called Muscle Pharm.
Arnie pumped some iron at Muscle Beach in nearby Los Angeles to push his new offering - released alongside his new movie, Escape Plan, filmed with old mate Sylvester Stallone.
Arnie hasn't quite finished with political issues. He recently met Austrian leaders to discuss climate change in Europe, where he is scheduled to give a keynote address this week at a world energy conference.
However, there are no signs of him re-entering political life after his exit and the subsequent disgrace of the housekeeper episode, which cost him his marriage to Maria Shriver, a member of the influential Kennedy family - about the closest thing the US has to a royal family.
It was October 2003 - so nearly 10 years ago that an action hero somehow persuaded the electorate to install him as Governor of what was then the world's eighth-largest economy.
Now, however, it's mostly back to movies. Escape Plan sounds like a doozy. Stallone is an engineer convicted of a crime he didn't commit (natch) and imprisoned in a jail of his own design. Schwarzenegger is cast as Rottmay (no, really), the "wise and soulful" cellmate who helps Stallone escape to find the guy who really committed the crime.
Arnie's advice to his cellmate might just be: "And when you get out, don't impregnate the housekeeper. She'll be baaaack."