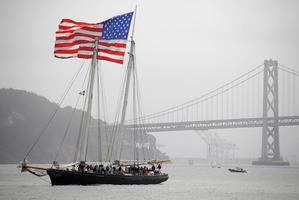 There's something slightly surreal about sitting on the deck of the schooner America - after which the America's Cup was named - on a windy day in San Francisco Bay.
It was 162 years to the day from the first America's Cup race when we pulled out of the dock for a quick sail round the Bay.
Two things fast became apparent. First, the wind was blowing a bit hard, a decent 25 knots maybe, for the heavily laden schooner (a replica) to show its 160-year-old paces. The original America was laid to rest more than 70 years ago, a victim of decay, a snowstorm and a fire.
Second, you can see what the sailors in the 34th America's Cup have to deal with - the wind is wild and woolly in the afternoons, there are nasty passages of water where wind and tide are at loggerheads and it's cold. That water - which acted as an efficient escape-proof valve for the prisoners of Alcatraz - is murky and sucks the life out of most people quickly; one reason why the chase boats stay so close in the races.
A 101-foot, 100-tonne wooden racing yacht, the original America revolutionised sailing. Up until it was built for a trip to the Isle of Wight in 1851 to take on the might of British shipbuilding, most yachts had a "cod's head" and a "mackerel's tail" - blunt bows and a sleek tail, like a fish.
But the America was designed with a dagger-like bow and a round stern and trounced the only British yacht game enough to take it on and the America's Cup was born.
Design and technological advances (and claims of cheating) have been in play ever since.
The replica is a lovely thing. We got to a giddy 12 knots - fine stuff - until a jib tore. We sheltered in the lee of Alcatraz while the crew dragged the battered jib and the other sails down before a leisurely (diesel) jog back downwind to the dock.
All highly pleasant. We walked round the ample decks, enjoyed a quick beer and talked about the AC72s and the 34th America'sCup.
It was enough to suggest that, while the winds of change will doubtless blow, the Cup should continue for another 162 years, at least.