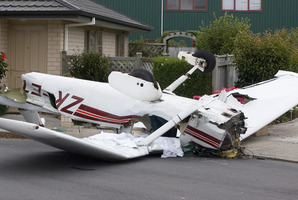 A former Civil Aviation Authority investigator accused of faking an email presented to a coroner's inquest has been found not guilty.
Peter James Kirker, 53, had been on trial at the Wellington District Court this week on three charges relating to an email he sent in October 2011 which highlighted concerns about a manoeuvre being performed before a crash that killed three men at Paraparaumu in 2008.
Judge Andrew Becroft this afternoon issued a decision in the case, finding Mr Kirker not guilty on two charges of trying to pervert the course of justice and one of causing a forged document to be acted upon as if it were genuine.
Mr Kirker's email, which was sent to the family of one of the crash victims during the inquest, was signed with the name "Frank Sharp''.
At the time, Frank Sharp was a manager of Professional Programmes at Massey University's School of Aviation.
Cessna pilot Bevan Hookway, 17, and two other men flying in a helicopter - flight examiner David Fielding, 30, and student pilot James Taylor, 19 - perished in the crash at Paraparaumu.
Mr Fielding's mother, Janette Fielding, who received Mr Kirker's email assumed it had been from Frank Sharp, the aviation expert, Judge Becroft said in his summary.
Following this, Mrs Fielding printed off the email and a document detailing Mr Sharp's professional background. Both were produced as exhibits at the coroner's inquest the next day.
A police investigation was launched into the origins of the email after Mr Sharp denied any knowledge of it.
Mr Kirker, who repeatedly denied any intention of forging the email as being from Mr Sharp - saying rather he chose the name at random and was unaware it appeared on emails from the account - was vindicated this afternoon in Judge Becroft's ruling.
The judge said the Crown's case had been unable to prove beyond reasonable doubt Mr Kirker intended the email be sent "cloaked'' in the authority of Mr Sharp.
There was nothing in the email that showed the author had the expertise or authority of Mr Sharp, Judge Becroft said.
Evidence showing someone had removed the name of ``Frank Sharp'' on the email account, hours after an online news article about the inquest and police investigation into the email was accessed from the Kirker's family computer also failed to prove beyond reasonable doubt Mr Kirker was attempting to deflect the police investigation, and pervert the court of justice.