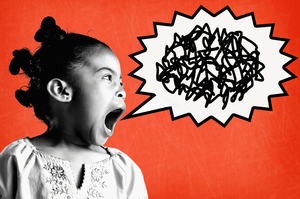 A raised voice is far better than a raised hand, that's for sure. But I often wonder what other parents - and anyone around me - thinks when I tell off my little girl, Mia, in public.
I am not one of those unhinged shouters and screamers you see at the supermarket every now and then. You know? The get-in-behind-you-bloody-kids type. It makes you wonder what goes on in the privacy of their home if that's what happens with an audience.
I, like many parents, are more in the vein of sometimes being at their wits end because the kid(s) won't do as they are told.
These days, my darling little Mia is at the pushing boundaries and being a smart arse - I mean, lippy - stage. So at the moment my wife and I quite often find ourselves getting exasperated with her.
And I admit it I have said, "Bloody hell, Mia", a little too loud at certain times.
Just the other day at ballet I lost my cool, just a little. Mia was clutching my leg, being a grizzle guts, and refusing to go and join the rest of the class.
I know kids get shy but it's frustrating because Mia is almost always a leader rather than a clinger.
In the end I just said to her, "Look. Go and do what the teacher says or else we're going home."
It wasn't in a raised voice, more forthright with a hint of venom, and it worked. But like I say, I wonder what the other parents thought? Possibly not much, and maybe it's my own paranoia. Who knows?
For me though, in situations like this, I find it almost impossible not to get frustrated. And yes, I do realise I probably have another 10 to 15 years of similar behaviour, so I better get used to it.
The thing is, despite having two children (Katie is almost one), when it comes to Mia we are still first time parents. These stages she is going through are new to us and we're still trying to figure out the best way to handle - or ignore - them.
My wife and I marvel at the way friends of ours, who have more experience as parents, are almost immune to whinging and whining and low-level disobedience.
They can rise above it, and seem to exist in a serene world of parental nirvana.
Well that's my goal, though I sense I have a few years of learning and suffering to endure before I finally make it.