As John Key prepares for a White House visit next week, New Zealand's Pacific role is growing in value.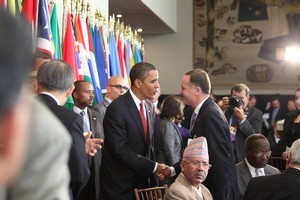 On a warm and breezy night in Washington DC three weeks ago, a seriously excellent party was held at the New Zealand Embassy.
"It was not just a good party - but it was a good party," Ambassador Mike Moore says with understatement.
It brought together the Pacific ambassadors he rubs shoulders with in Washington. And New Zealand's man in New York, Jim McLay, brought another set of Pacific ambassadors, posted to the United Nations.
They held a serious seminar to discuss some of the challenges facing the Pacific and State Department officials turned out in force, with up to 20 attending.
Then the fun began at an embassy reception where even more turned up. The Pacific Night was brought alive by a continuous stream of island performers trying to outdo one another.
Moore, a former Labour Party leader, and McLay, a former National leader, joined forces with the Ngati Washington and Ngati New York contingents for a contribution from Aotearoa New Zealand.
"Thank God no one took a picture of the worst haka done by two white guys in 200 years," said Moore.
The ambassador and former Prime Minister spoke to the Weekend Herald during a break from a hectic time helping to plan next week's visit to the White House by PM John Key.
The Pacific will form part of Key's talks with President Barack Obama.
Moore stressed that the seminar was serious, that it was not "just a once", saying, "It's not just a tactic, it's a strategy, and we'll see how we can build on this."
The highest-ranking American official at the party was a long-standing friend of Moore's, US Assistant Secretary of State for East Asia and Pacific Affairs Kurt Campbell.
Campbell was the driving force on the US side for the Wellington Declaration, which was signed in November last year, elevating NZ -US relations to "a strategic partnership".
It reads more like a press statement than a carefully crafted document that might one day be respectfully stored in a glass cabinet.
Nonetheless, it states that one of the two fundamental elements of the strategic partnership is "practical co-operation in the Pacific region".
The other is enhanced political dialogue.
Campbell was in New Zealand with Secretary of State Hillary Clinton for the signing.
He was back in New Zealand in February this year for the US-NZ Partnership Forum in Christchurch, which was abandoned part-way through after the earthquake.
And with a close friendship to Washington-based Kiwi trade expert Peter Watson, Campbell has been here before in a private capacity.
And as Moore pointed out in February, "It is only a few ambassadors ago that a [New Zealand] ambassador would go to the State Department, meet a person like Kurt Campbell, say hello, and then a couple of years later go and say goodbye. Now we meet every two weeks."
The timing of Pacific Night at the embassy was helpful for Campbell: the next week he undertook a historic week-long tour of the Pacific with the commander of the Pacific fleet, Admiral Patrick Walsh, senior Pentagon adviser for Southeast Asia Brigadier General Richard Simcock and senior USAID official, assistant administrator Nisha Biswal.
The Americans called it unprecedented in terms of seniority and the tour took in Kiribati, Samoa, Tonga, Solomon Islands, Papua New Guinea, Palau, the Federated States of Micronesia and the Marshall Islands. The last two have a governance arrangement with the US.
In a teleconference press conference with Pacific journalists, Campbell said that in each of their stops, they were looking to underscore their strong strategic, political, military, historical "and indeed our moral commitment to the Asia-Pacific region".
Moral commitment may be one for reasserting its place in the Pacific but a big part is China.
It usually goes unstated but Clinton's exasperation showed as she pleaded the case for her USAID budget before the Senate foreign relations committee. "We are in a competition with China that is unbelievable," she said. "They are expending enormous amounts of money. They have a huge diplomatic presence across the Pacific."
Late last year, Clinton announced that USAID would be re-establishing a post in Fiji. That plan has now been canned because of lack of funding.
At the same time as the US is competing with China, it is also attempting to draw closer to it. After the Pacific Night, Campbell and Chinese Vice-Foreign Minister Cui Tiankai met in Hawaii for inaugural US and China consultations on the Asia-Pacific region.
Afterwards, Campbell called for greater transparency over China's military expansion and thought there was scope for their two militaries to work together to combat piracy.
Foreign Minister Murray McCully is overseeing a change in emphasis in New Zealand foreign policy with higher priority on the Pacific.
The stronger focus of New Zealand and the US is an integral part of the ever-deepening relationship.
This year, McCully bluntly set out expectations that his ministry should lift its game in the Pacific.
"The ministry has, in my view, provided insufficient opportunity for the developments of specialists in recent years, especially in the Pacific," McCully told the Institute of International Affairs in April.
"In relation to the Pacific division of the ministry, I have made plain my view that New Zealand should boast the most expert and connected group of officials on Pacific matters of any foreign service in the world.
"To our partners, the Pacific is a large, complex part of the globe with all manner of development, humanitarian, stability and security challenges.
"Rather than investing their own resources in understanding the region closely, they would much rather take guidance from us and from our Australian friends, and partner us in development work in the region.
"This is a unique contribution we can make to our partners and one they greatly value."
The unmistakable message was that focusing on the Pacific was one of the ways New Zealand could best help the US. There is no hidden agenda. McCully is quite open about it.
The US acknowledged long ago that its focus on other parts of the world, including Iraq and Afghanistan, drew its focus away from the Pacific.
It was recognised under President George W. Bush, whose Administration decided to declare 2007 the Year of the Pacific and say they were back.
Barack Obama's Administration has been even more ambitious in recognising what they call the Asia-Pacific Century.
But the terms of the re-engagement are tailored to suit stretched US resources and New Zealand and Australia's pride of place in the 'hood.
It suits the superpower to reassert a high-visibility presence but tie its influence to the like-minded powers in the region.
As McCully puts it: "They [US] keep reinforcing to us the fact that they want to follow a lead from New Zealand and Australia, not just to forge their own path through the region.
"That has been good for the relationship I think.
"The US is only just getting re-engaged in development work in the region and we are really at the front end of this discussion trying to ensure we work together in these areas."
The areas he nominates for greater co-operation with the US include fisheries surveillance of vast exclusive economic zones to prevent illegal fishing.
"Then there are a bunch of other things like training observers and putting them on vessels.
"We are funding more of that sort of stuff ourselves but, without the surveillance aspect of it, it's difficult.
"That's why I'm hoping we'll see more progress in that area involving the US."
Another area is renewable energy. It has been a priority for the US in terms of its overall climate-change strategy.
McCully returned yesterday from his own tour of Polynesian countries - Tonga, Samoa, Niue and the Cook Islands. But he called Campbell soon after the American returned from the US mission.
McCully wanted a briefing before heading to Canberra to speak to Australian Foreign Minister Kevin Rudd about aid co-ordination before the Pacific Islands Forum. The Anzus security alliance may be defunct, but the old triumvirate is working together - be they allies, partners or family - with a new sense of co-operation in the South Pacific.
The US in the past has sent maybe half a dozen people to the Post Forum Dialogue. For September, they have booked 50 rooms.
"We'll certainly have China and the US in the same room," says McCully. "The question is can we ensure we have a constructive conversation involving all of the donors which results in some actually co-operation?
"We'll be working hard to ensure we provide the best possible environment for that to happen."
But not so hard, presumably, that there won't be room for another seriously fun Pacific Night.
Audrey Young will be covering John Key's trip to the US.