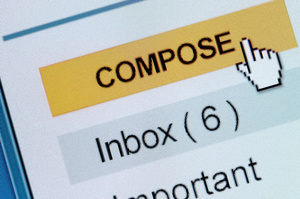 As an influential columnist who sometimes gets upward of five comments for each of his columns, and because this is New Zealand, where the six degrees of Kevin Bacon rule is more like the two degrees of Karl Urban rule, it was only a matter of time before someone I know got name-checked in the whole dirty politics, Whale-slime, Punch and Judith show carry-on.
For legal and social reasons I can only refer to my point of contact with this ongoing media frenzy as G-Man. I have been to his house, though I am not going to refer to it as the G-Spot because that would add a whole other level of weird to the weirdness feeding frenzy. I have discussed many things with G-Man, including food, wine and even politics.
I am totally implicated by association. Cool.
But is it cool? In the rampantly delusional world of the blogosphere it takes only a sniff of implication to lead to other things - like more weirdness. This is why I thought it best to hack my own emails to assess my own culpability in this maelstrom of crazy. What I found, from reading between the lines, was a trail, leading somewhere, towards something.
On August 9, 2012 I was included with G-Man in a group email under the message heading "Tin Soldier". Ostensibly this was to organise dinner at a Ponsonby Rd restaurant called Tin Soldier but, as the blogosphere is well aware, the phrase "tin soldier" could equally apply to anyone, even politicians. In other words, it could be code for something else.
The email was sent by a powerful internet mogul I shall call Goodnight because code names are great fun and also they help to protect the innocent from getting sucked into the vortex of nonsense. In her email, Goodnight makes reference to "little smoked fish pies". In response, G-Man writes, enigmatically, "I never go past a fish pie ..." and "Think I'm in Wellington Wedensday [sic]." Is the misspelling of Wednesday deliberate or lackadaisical typing? Is it code for another day of the week? And why was he in Wellington? And who else is in Wellington? The entire Government maybe?
And what is the whole fish pie thing about? Fish live in the ocean; just like whales live in the ocean; so are the references to "fish pie" actually references to some kind of campaign to put a pastry lid on Cameron Slater and bake him? Fish pie is traditionally made from smoked fish, so is this the smoking gun in this story?
I can confirm that a dinner did indeed take place at Tin Soldier and I was present and also ate some fish pie. But the possibility remains that I was present in the way John Key is often present but doesn't have any idea what really went on when asked about it later.
Then, on May 18, 2014 Goodnight included me in a group email that also included G-Man; a powerful PR maven I will call the Wallwalker; and Mr Orange, a man with direct audible links to the election campaign. In it, the question was asked: "So where did we get to with organising this [NAME OF RESTAURANT REDACTED FOR SOCIAL REASONS] lunch then ..." and then the significant phrase "... the trail seems to have gone cold".
Which trail was Goodnight referring to? The trail of evidence? The trail of blame?
Intriguingly, the first person to answer this group email was the Wallwalker. She replied: "We are planning to see a couple of documentaries at the festival next weekend and I have a feeling they are both on Saturday during the day." Why? Why would you see two documentaries on the same day? Surely the logical thing to do would be to see a documentary and then a fictional film, to balance things out? And who is the "we" she refers to? Her and her partner (Doctor Funnyman)? Or possibly Judith Collins? We will never know, unless we were at the documentaries with the Wallwalker - if she was even there.
G-Man did not partake in this email exchange, but in Goodnight's original message she stated: "Me and [G-MAN] and [NAME REDACTED TO PROTECT THE INNOCENT] are all good". Good for lunch? Or good to launch a campaign to undermine democracy as we know it? It is all in the interpretation.
I was not present at this lunch so I have no way of confirming if it even took place.
Someone from my office replied to the email to make my apologies and made reference to something called a "slapper"; to which Goodnight replied "I will assign one of the boys to slapper drinkage". I have no idea what that means but in the hands of a blogger with an agenda I'm sure it could be made to sound suspicious - especially the bit where I wasn't there.