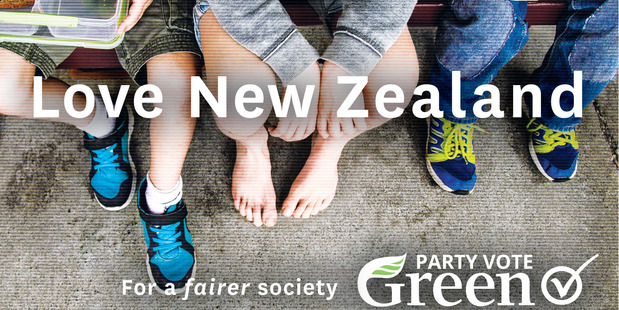 The Green Party is offering a simple answer to child poverty: give beneficiary parents the same wage subsidies paid to low and middle income earners with children. That, the party calculates, would give beneficiaries an extra $60 a week. "This money will transform life for these kids," said co-leader Metiria Turei. "It'll mean having warm clothes, school books, lunch and turning on the heater when they are cold." If only it was that simple.
The Greens know it is not that simple, because the billion-dollar plan announced at their campaign launch on Sunday would also turn primary schools into all-purpose health and social welfare hubs for their community.
Schools would not only provide all children with a free lunch, dedicated nurses would care for sick children and schools in deciles one to four would look after children outside school hours and during school holidays at no charge to their parents.
Quite apart from the cost this would present to taxpayers ($500 million a year, the party estimates) it is an admission that the extra $60 a week the Greens would put in the hands of parents might not be spent on warm clothes, school books, lunch and home heating. Child poverty is not simply a matter of income.
If it were, then all children being raised on current benefits would be poorly housed, clothed and under-nourished. People's circumstances vary greatly and the welfare system has become much better at providing allowances for particular needs.
The much maligned benefit reforms of 1991 reduced base rates and introduced or boosted grants for accommodation and the like. Ms Turei, as it happens, became a single parent in 1993. She referred to this in her speech, noting that her daughter has grown up in an era of "shocking levels of deprivation and poverty among our children". Yet in that era she managed not only to raise a child but obtain a law degree with the help of a training incentive allowance.
Six years after becoming a sole parent, Ms Turei graduated from Auckland University and began work with Simpson Grierson. Her experience suggests that the welfare system as it exists is not necessarily a poverty trap.
If beneficiaries with children were given incomes at the level of paid work, as the Greens propose, what incentive would remain for them to take on further education or training while raising a child? Would training incentive allowances still be available if so much of the welfare budget went back to a universal child benefit? There would be a limit to that budget even under the Greens' proposed tax rates. A top rate of 40 per cent on incomes over $140,000 a year would discourage additional effort and invite widespread avoidance. Both the economy and the public accounts would suffer.
National argues the cure for poverty is employment, not just because work can pay more than welfare but because it provides the social mobility that a benefit does not. A job is liable to bring opportunities to broaden skills and responsibilities, increase earnings and productivity.
The Government has required beneficiaries with children to take jobs offered once the child is at school. It has turned social welfare offices into work advice bureaus, equipped not just to point job-seekers in a promising direction but help them write CVs and present themselves well. By luck or design it goes to the polls with unemployment down, employment expanding and a drop in the long-term unemployment that can breed dependence in the next generation.
That seems a better answer to child poverty than raising the benefit to a level that would be as rewarding as work.
Debate on this article is now closed.