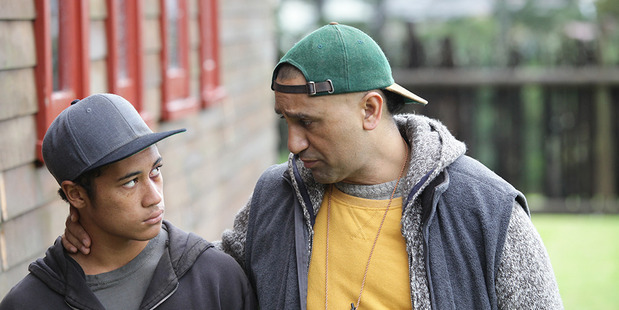 It's heartening to have a local star on the front of our film festival special issue. Especially as a younger James Rolleston smiled his winning smile from the cover of TimeOut a few years back.
His second feature, The Dark Horse, opens the festival in Auckland tonight. I've seen it. I'm going again. At least this time, I'm prepared for the movie's emotional punch.
Even if you can't make it tonight for the world premiere, let's be clear, this film is not just one for local film festival-goers.
Tonight is the beginning of The Dark Horse being let out of the paddock and running free.
Back here though, the film arrives at an interesting time in New Zealand screen production on both the big and small screen. It was inspired, in part, by an earlier documentary, director Jim Marbrook's fine Dark Horse, which profiled Genesis Potini, the remarkable man portrayed by Cliff Curtis in the movie.
Hopefully, come the DVD release in the future, the drama and the doco could be married into one package so a wider audience can see the dividing line between the fact and the fictionalised account, focusing on a troubled dramatic period in Potini's life.
And, thank goodness, Potini's story didn't become a television docudrama of talking heads.
A couple of years ago, I wrote about a seeming new genre: Te Papa television - the string of history-based shows that have come about with the advent of the deep-pockets of New Zealand On Air's Platinum Fund. It seems to have caused a run of docudramas doing the required job of "telling our stories" without actually being good TV.
Some have been great - like The Golden Hour of 2012 or last weekend's Erebus: Operation Overdue about the police sent to recover the bodies of the crash victims.
But there's also been a kind of mission creep, with local dramas pretending to be docos too - like Hope and Wire, which I lost patience with last week due to its actors turning into talking heads. Then there's War News, which is the best example of Te Papa TV yet. It belongs there.
This weekend has a new example: a ripping yarn turned into a yawn.
That's the case with The White Mouse, this weekend's Sunday Theatre one-off about the life and wartime adventures of New Zealand's own glamour spy, Nancy Wake.
After seeing a preview screener, I'd like to be able to say it's the next great platinum fund-powered screen triumph.
But between the 'Allo 'Allo-style iffy acting, the cheap and cheerful production of the re-enactments, and the talking head marathon - only two of who seem to have met Wake, and only in her final years - it just felt the The White Mouse had fallen down a gap between doco and drama and doesn't do either well.
It should be a ripping yarn of a decent movie or a drama series, not a television amateur theatre production and tag-team talk seemingly designed by committee rather than a director with a compelling, compact story to tell.
Sure, if Wake's story intrigues, don't let me put you off. But the story of how Wake helped the French liberation shouldn't be a mediocre checklist but a fact-bending high-drama piece de resistance.
It feels like a missed opportunity.
- TimeOut