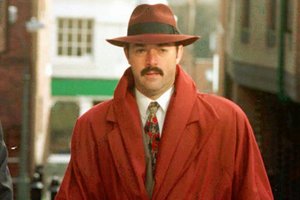 So Lou Vincent has made his cathartic confession. The big question is: what happens now in the battle against match fixing?
Many strongly suspect the answer is, not much.
The ICC have convinced nearly all of us they may cheerfully sweep all further mention of match fixing under the rug with their appointment of India's N. Srinivasan as chairman. He's the man often known as the most powerful in cricket but who was forced to stand aside as president of the Indian cricket body, the BCCI, because of an unresolved illegal betting scandal involving his son-in-law during last year's IPL. This gives few comfort that match fixing will be zealously pursued.
New Zealand's Vincent and others caught up in the match fixing whirl have made global headlines. It takes little cynicism to conclude some in the ICC may be happy with the perception they are acting. The recent statement by ICC boss David Richardson that match fixing was perpetrated by a "tiny minority" succeeded only in suggesting the ICC may be giving it a tiny priority.
Is little, old New Zealand the match-fixing Mecca of the world? Of course not. Are there players in the big three (India, England and Australia) who have match-fixed? Common sense dictates it's extremely likely but not so clear is the will or ability to track them down.
The potential case against Chris Cairns, who has steadfastly and consistently maintained his innocence (he won a libel suit against Lalit Modi, the former commissioner of the Indian Premier League, in 2012), is with Britain's Crown prosecutors for a decision on whether it goes to court.
It would be no surprise to see no action. There has been no proof presented. Allegations, yes. Vincent, in leaked testimony, said he worked for Cairns in trying to fix games at the ICL and that Cairns also convinced him to try to fix matches in England. Cairns said in response: "The allegations he and his ex-wife make against me are despicable lies."
Vincent's confession may well have been the action of a man relieved to clear the slate and making a clean breast of it so he can find some form of employment in the future. He also now comes across as a man with no reason to lie further.
Sometimes, the mud of fixing can stick even when those accused are technically found innocent. Remember Bruce Grobbelaar, the much-decorated Liverpool goalkeeper who, in 1994, was videoed by The Sun newspaper accepting 2000, supposedly part-payment to throw a match for his new club Southampton.
He also appeared to admit throwing a 1993 match against Newcastle for 40,000. Grobbelaar insisted he had been gathering evidence to take to the police and maintains his innocence to this day. Prosecution evidence was provided by a man also called Vincent - his former business partner Chris Vincent (no relation).
Grobbelaar was tried for match fixing and conspiracy to corrupt (along with three other men) in 1997 and acquitted on one count, following a retrial. The prosecution then offered no evidence on the second after the jury could not agree on a verdict. He then sued The Sun for libel, winning 85,000 in damages. The Sun appealed successfully. Grobbelaar took the case to the Law Lords and won - but was awarded damages of only 1 and told to pay court costs of 1 million. It bankrupted him.
The Law Lords ruling said that, while it had been proved Grobbelaar had accepted bribes, it had not been shown he had let in goals to fix results. Lord Bingham said: "He had, in fact, acted in a way in which no decent or honest footballer would act, and in a way which could, if not exposed and stamped on, undermine the integrity of a game which earns the loyalty and support of millions. It would be an affront to justice if a court of law were to award substantial damages to a man shown to have acted in such flagrant breach of his legal and moral obligations."
The hardest thing to track in all match fixing or spot fixing allegations is the money trail. Prosecutors have to prove money is delivered for certain acts and those acts being carried out - as happened in the case of the three Pakistani cricketers Salman Butt, Mohammad Asif and Mohammad Amir, jailed in 2011 after a News Of the World sting involving a videotape and then obvious execution of the fixing carried out on the field.