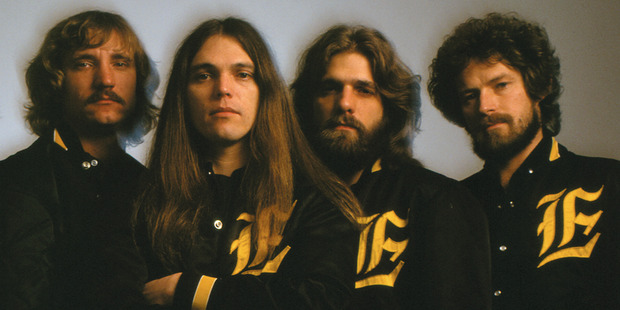 Talk about your quintessential First World dilemma. Of all the troubling and important things in the world I could and should be worrying about - climate change, fundamentalist intolerance, who donated what to the Labour Party six years ago - instead, the thing currently vexing me the most is whether or not I should get tickets to The Eagles concert.
I have to point out here that I'm not what you'd call an Eagles "fan", in the sense that I own all their music and torture guests with it every time someone comes over. I do have one of those cheapo box sets of all their early albums and I will confess to a time, long ago, when their music was part of me growing up. Like just about everyone else in the Western world I can sing along (badly) to Hotel California and know that the warm smell rising up in the air is "colitas" not "colitis", which is an inflammation of the colon.
The Eagles, and why I am tempted to see them, are what I term a "Tick the Box" concert.
This term applies to two sorts of acts. First, there are the acts that are currently the Next Big Thing on the music scene, so when they come here you feel like you should go to see what all the fuss is about. Sometimes these gigs work out great (Green Day); sometimes you walk away wishing you'd seen them before they made that leap to being the Next Big Thing (the Black Keys); sometimes you wish they'd never made that leap to being the Next Big Thing (Kings of Leon); and sometimes you depart having lost all respect for everything they have ever done because they are truly awful (Oasis, I'm looking at you).
The Eagles definitely do not fall into the Next Big Thing category because they were a Big Thing a long, long time ago. No, The Eagles fall into the See Them Before They Retire and/or Die category. The point of these concerts is so that in years hence you can casually drop into conversation the phrase: "Yeah, I saw [INSERT NAME OF NOW DEFUNCT BAND/ARTIST], and they were ... y'know." You don't even have to give the concert an actual qualitative review because the point of the gig is the going and the seeing, rather than the enjoying - ticking the box.
Of course, sometimes Tick the Box concerts can also be thoroughly enjoyable in their own right, rather than just a call of duty. AC/DC was like that for me. I went only because someone offered to get me a ticket and I thought "what the hell, might as well tick the box" but actually ended up having a great time. Having said that, however, I very much doubt The Eagles are going to roll out a giant inflatable woman like AC/DC did for Whole Lotta Rosie.
Normally, when faced with such a dilemma my default response is to let indecision, inactivity and fate decide for me. If the concert sells out before I actively seek a ticket then so be it, I was never meant to go. Conversely, if someone much more highly motivated than I gets a gaggle of tickets and purchases one on my behalf, then clearly I was destined to go. Unfortunately, when it comes to The Eagles, they're putting on a second concert so I can't see the sold out option coming into play, but neither have any of my friends been jumping up and down saying "we have to go, we have to go" so the passive attendance option has also been taken away.
Damn you, Eagles, that your heyday was so long ago and was kind of cool at the time, so you tempt me in to your web. And curse you that your coolness has long since faded and I know people who will mock me if I do go, which keeps me at arm's length. And damn you for all those songs in my head, hangovers from my youth, to which I still know all the words, which makes me want to go. And curse classic hits radio stations for playing those songs over and over and over, until I never really want to hear them again. I am on the horns of a dilemma not unlike the horns of the buffalo skull that adorns your set.
I suppose, when all is said and done and the last note of the last Joe Walsh guitar solo has drifted away on the wind, what I'm driving at is that the Eagles are something you should be able to say you've experienced at least once in your life.
A bit like colonic irrigation I s'pose, which is probably quite helpful in preventing or treating colitis, I imagine.