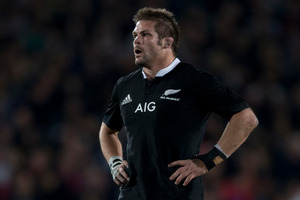 The net is closing, the All Black slide is inexorable.
It's a theme which has gathered some justified pace since the All Blacks battled to get past England at Eden Park. As always there are opposing camps.
Those who feel the errors were first-test blues found comfort in coach Steve Hansen's assessment that his staff had overloaded the group with too many ideas. On the other side of the debate are those who believe the All Blacks reacted badly to the bullish blowtorch from the England muscle.
The reality is a mix of many factors which both teams will have done their best to unravel as they approach tonight's rematch.
One thing is certain. The All Blacks need to lift their levels to show they have not plateaued in this crucial season before the World Cup. They struggled to find the balance in their game on the last tour to Europe and against England last week when they were squeezed up front.
Is the problem merely the absence of Kieran Read, Daniel Carter and Charles Piutau or are the signs more sinister? Will the rejigged back three with the return of Julian Savea and an intense week of navel gazing produce a strong riposte?
Was there some complacency which seeped into the ranks because of the tenacious campaign to remind us all that England were using their B team?
It seemed to mirror the World Cup final in 2011 when the All Blacks, having beaten France comfortably 37-17 in pool play, a few weeks later laboured to an 8-7 victory. That was an enormous struggle with the All Blacks unable to shrug off their mindset or their less talented opponents.
That same lethargy seeped through their game last week at Eden Park. They will be sick of hearing about it or avoiding talk on the subject.
The last time such doubts surfaced probably came after the undistinguished 22-19 win in 2012 against Ireland in Christchurch.
The response was shattering ... for Ireland. They were pasted all over Waikato Stadium and sloped off looking at a 60-0 scoreboard. That will not happen tonight.
Six All Blacks who got the starting chance to make amends from Christchurch to Hamilton are on show tonight. Conrad Smith, Aaron Smith, Richie McCaw, Sam Whitelock, Owen Franks and Tony Woodcock know what they have to do.
Everyone except Aaron Smith has played more than 50 tests and McCaw and Woodcock are past the ton.
They know more than most about test rugby.
Knowledge and effort are two different issues. Sometimes the body does not respond to the mind or, even worse, the mind does not want to engage.
Those sort of contests will be assessed as eagerly as the match.