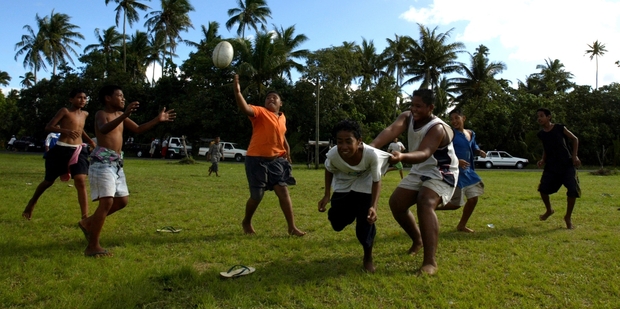 Good on John Campbell and Campbell Live for launching a campaign to get the All Blacks to play Samoa in a test match in Apia. That the All Blacks have never played Samoa in Samoa has been a bugbear of Campbell's for some time, as I understand it, and the good thing about being a current affairs host is you can give worthy causes you believe in significant air time.
Now other sports fans are getting behind a petition to persuade the New Zealand Rugby Union a test match in Samoa is a good idea.
The Samoan Rugby Union requested a test when it celebrated its 50th anniversary but apparently the NZRU said its dance card was full. I can believe that — I understand the All Black schedule is fixed a couple of years in advance — but there was no offer from the NZRU to schedule a game later and there doesn't appear to be any real enthusiasm to visit the country. And that's a disgrace.
I understand it's all about the money. Of course there's more coin to be earned staging a game in the US than in Samoa. And the corporate boxes and hospitality offered will be far more sophisticated at Soldier Field in Chicago than at Apia Park — although I guarantee the welcome would be far warmer and more genuine in Samoa.
According to Campbell Live, 55 Samoans have worn the All Black jersey, some of them the most exciting the rugby world has ever seen. Bryan Williams, Michael Jones, Keven Mealamu, Joe Stanley, Tana Umaga and Ma'a Nonu.
The New Zealand rugby world would have been all the poorer without their contribution.
And the NZRU is well aware of the importance of the Pasifika influence on our national game. According to NZ Rugby World, being able to plunder the talented pool of athletes in the Pacific is the single greatest advantage the All Blacks have over other nations. The magazine says the All Blacks will need a major Pasifika influence in the side if they want to win the next World Cup.
The NZRU knows this, yet at the same time it is trying to hog Pasifika players for itself and ward off the advances of other rugby-playing nations and talent scouts from the NRL, it won't do Samoa the courtesy of playing a match on Samoan soil.
If rugby bosses want to show commitment to the Pasifika players and their communities, they should get on a plane and fly to Apia.

• Kerre McIvor is on Newstalk ZB Monday-Thursday, 8pm-midnight.