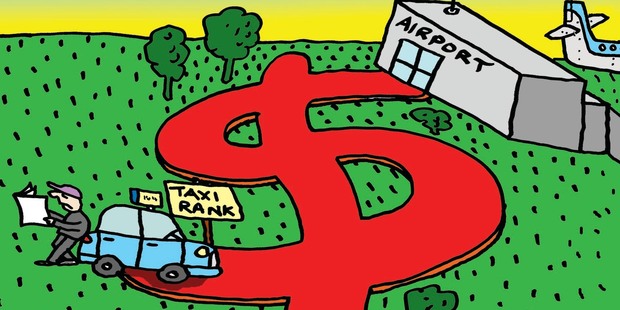 Several years ago, I persuaded the legendary Savoy Hotel it should put me up for a couple of days while I was passing through London. It did, and better still, offered to pick me up in the office Bentley from Heathrow airport.
It's the way every flight should end, although I confess I almost chickened out when the Savoy concierge appeared in the crowded arrival hall, resplendent as a Ruritanian admiral, waving a sign with my name on it.
It certainly solved the problem of which tube station I should be aiming for. Unlike the Auckland airport customers I've been reading about for the past few days, the idea of catching a cab at an airport just doesn't normally enter my head. Unless, perhaps, if I'm travelling on the boss' expense account.
I do recall arriving at Mangere a while back after a long flight, late at night and weakening. But the $75 bill I got at the Ponsonby end reminded me that there were much better experiences to buy with my hard-earned cash than a 30-minute trip in an Auckland taxi.
I grumbled at the time, but if you're a believer in a labourer being worthy of his hire, what is a fair price for a trip from the airport?
Apart from wages, you have to factor in the $6 to $8 "airport pick-up charge" imposed by the airport authorities, fees to taxi companies and car running costs.
A colleague says he ordered a bargain-basement, set-price taxi on one trip and nearly missed his flight, not realising the unlabelled, elderly Japanese import loitering across his driveway was the cab waiting to pick him up.
He then had to share the ride with the driver's coughing and sneezing child, on sick leave from school. So you tend to get what you pay for.
The underlying problem is that we Aucklanders are still trapped in our 60-year obsession with the individual motor car. That's why too many - myself included - still see it as the only option for getting to the airport, and most other places.
By preference, I leave my car at one of the airport's various carparks. Which is why, I guess, that on the odd occasions I have used the excellent Airbus Express bus service, it is usually near empty. For $16 one-way or $28 return between the airport and Queen's Wharf, it's an under-used bargain.
All that's missing are the free shuttle buses at the city end which Melbourne's similarly priced SkyBus service throws in.
In Melbourne, the SkyBus travels to the Southern Cross rail station and transport hub near the city centre, then you are directed to a free transfer minibus which drops you to your hotel or serviced apartment.
When you are leaving, it picks you up on request. With such a service, why would you throw your money away on a cab?
Auckland airport has been quick this week to deny any responsibility for high taxi fares, while admitting it taxes each departing cab $6 to $8. Cutting that impost would immediately reduce most trips to the central city by 10 per cent or more, which would be a good start.
Abandoning the airport's money making licensing system, which sells preferential access to a limited number of cabs, would also drive down fares by encouraging more competition.
But that's only scratching at the underlying problem. As a public transport provider, Auckland airport should be leading the way in backing bus and rail access to Mangere - not only for the 14.5 million passengers passing through each year, but for the 12,000 people who work within the airport precincts.
The airport recently unveiled a $2.4 billion "airport of the future" plan. It talks of a train terminal, but says rail links are the responsibility of local or central government.
Chief executive Adrian Littlewood said at the time, "we've got to make sure that we've got a fantastic airport" that "delivers that critical service for the future".
But what's the use of a fantastic airport if the journey to get to it is long and expensive? Out of that $2.4 billion, what price a couple of rail lines going south and north to Onehunga.
With rail links to the city network, and the Airbus Express, who would need high-priced taxis?