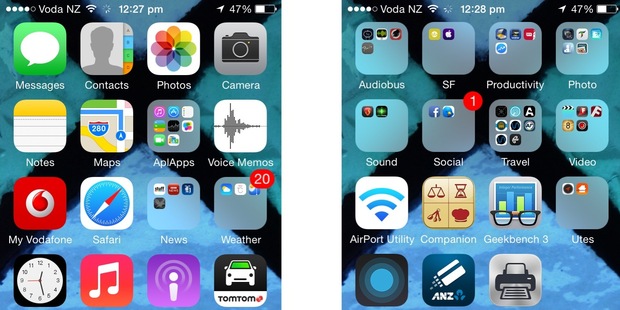 A few weeks ago I wrote a story on what apps I use on my Mac, and which ones I use on my iPad, and asked for comments on what you find indispensable. On my iPhone and iPad, I like to only have two screens of apps. I used to have 14 on my iPhone but thanks to folders, and constant pruning, that's no longer necessary.
I try a lot of apps on all three devices, and usually because they look promising, but it's interesting which ones last the distance - others I ruthlessly delete. There are common patterns: when most people buy or download a new app, there's a 60 per cent chance that if you don't come back to the app within seven days, you never will.
With social and entertainment apps, data shows that if users don't try the app again within 12 hours of their first launch, there is a greater than 50 per cent chance they will never open it again.
News apps are among those with the longest intervals between their first and second app launches: almost 24 hours, and if users don't launch a news app again for up to seven days after their first use, there is still a 59 per cent chance they will later. This data comes from Localytics, which tracks more than 1.5 billion devices, 25,000 apps and 5000 customers.
I must admit that sometimes I put a new app on because I read good things about it, but may not use it straight away, and weeks later find it and wonder what it even does. I do list, by the way, new and interesting developments on weekdays on my macnz iDevices page. It's there by 8am every morning, so if you want to know what's new, interesting or updated, check that (and developers, please do tell me what you're up to, both for that and for Apple Watch).
I always customise my Dock - that's the strip of four apps along the bottom that are always there no matter what screen you are on. Hold your finger on one app so they all start to jiggle and you're in Edit mode. Now you can drag one app onto another to make a folder, move apps around and yes, drag things in and out of that Dock. (I think most people know this these days, but I'm often surprised.) Click the Home button again to exit Edit Mode. Your Dock may as well have your handiest apps in it, so mine has Settings, Phone, Mail and Calendar. On my Home screen I have Messages, Contacts, Photos, Camera, Notes, Maps and Voice Memos, which I use a lot for obvious reasons. These are all Apple standard apps. Voice Memo is handy for recording quick notes, but also interviews, in person of via phone (my home phone has a speaker - to do this, note the other person has to approve you recording them). You can't delete the Apple apps, so the ones I hardly use I put out of the way in a folder called AplApps: iTunes Store, App Store, Reminders, Passbook, Stocks, Game Centre, FaceTime and Newsstand. (Newsstand I do use, but prefer it on iPad.) With the two Apple Stores, I tend to browse them in iTunes on my Mac and install them from there, so they may as well be out of the way on my little iPhone screen.
Then there's the free MyVodafone app for seeing how my account's going (only seven days to use up 4872 texts), the web browser Safari, my News folder (NZ Herald, Stuff, BBC News and Independent), my Weather folder (Apple's Weather, Celsius, Tides NZ), then Apple's clock (handy as a timer, alarm, seeing what time it is in other countries) and Music - I only sync one playlist with my iPhone to save space.
Then there's Apple's Podcasts app (I'm an addict of history podcasts), TomTom NZ - indispensable for meeting clients all over Auckland, although it cost a lot - then I have my Fit folder with Moves and B.icycle in it. Moves is great for letting you know how many steps you took, calories you burnt and kilometres for walked (or cycled - it can tell the difference). Today I've already walked 4.8kms - that was just to the bank and back. This is an excellent app. I've tried a few bike apps but the German B.icycle has lasted the distance, so to speak. It tracks the route, tells me the fastest speed I hit, my average speed and calories burnt. One day last week I hit 17kms, burnt 711 calories (it's hard cycling up the hill by Auckland Zoo on a single-speed), averaged 16kph, hit a top speed of 37.3kph and was on my bike for one hour 4 minutes. The app emails the results of each ride so I can archive them. I'm quite serious about this because it's my only real exercise.
Then there's my Calcs folder (Apple's Calculator - basic until you turn the iPhone on its side), Timeless (an excellent NZ timer app) and NZ GST for calculating that. And finally Remote, which lets me play my iTunes collection on my Mac via the stereo in the lounge, since it's plugged into an AirPort Express, and it's also a useful controller for the Apple TV.
On screen two, I have my Audiobus folder (Audiobus, JamUp, Amplitube, GuitarToolkit, UltraTuner), my somewhat hopeful SF Folder in case I go back to San Francisco (the WWDC app, the triposo San Francisco app, and Uber for hailing and paying for taxis with no tips conundrums), my Productivity folder (JotNot Pro, iPrint&Scan, ABBYY BCR for reading business cards and dropping the info into Contacts, and Quicklytics, which taps the analytical data off my macnz site).
Social has Facebook and Twitterific, Travel contains Apple's Compass (swipe it to the left to get a level), then FlightRadar for tracking planes, AKL Airport, TubeMap (for London), iTranslate Voice which is simply awesome, AT Public Transport (Auckland buses) and Air NZ.
The Video folder has Apple's Videos app, Fatso (I can manipulate my queue and see what's new), Flicks for finding movies in the theatres, 8mm for shooting old-style video and SloPro for slowing footage down nicelty. Then there's Apple's AirPort Utility, Companion (a useful Escoffier cooking app), the speed-testing utility GeekBench 3, Fleksy, a sort of clever typing app, FastPay NZ which lets me accept credit card payments on my iPhone (for the ANZ), Printer Pro which was free for 24 hours a couple of days back, and ... that's it.
No games - I don't enjoy playing anything on a small screen, and even on the iPad. I know this is a huge area for apps, but having my fingers actually on the screen I'm trying to play on seems like madness to me.
What do you recommend and why?