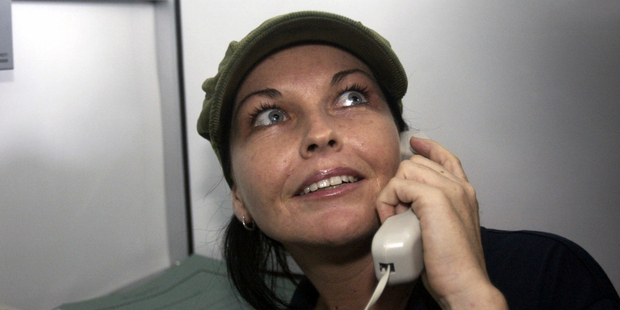 Out of the frying pan and into the fire. After 3412 days behind bars, Schapelle Corby is praying today will be the last. But is the infamous drugs smuggler ready to swap one form of imprisonment for another?
The high walls of Bali's wretched Kerobokan jail are expected to be replaced by those around an island villa - high enough, her family hopes, to keep a frenzied media pack at bay.
Forget the movie biopic Schapelle, premiered last night on Australian TV. All eyes are on a real-life drama playing out like a cross between Big Brother and The Walking Dead, where everyone wants a piece of the former beauty student - albeit in a figurative sense.
For the last decade prison guards have watched her every move. Now it's the turn of the paparazzi, who will try to follow her every move in a bid to feed the Australian public's seemingly insatiable appetite for all things Corby.
No one can confidently predict how the 36-year-old - released early partly because of her fragile mental state - will cope with the pressures of a new life inside a tropical goldfish bowl.
Under the relatively relaxed terms of her parole, she cannot leave Indonesia until 2017 and is expected to live with older sister Mercedes and her husband in the Bali resort town of Kuta. The couple's prison visits have reportedly dropped off because Corby disliked venturing into Kerobokan's crowded public area for fear of being photographed and hassled.
Despite Mercedes' pleas for privacy, Corby can expect anything but in the coming days and weeks.
All three of Australia's commercial TV networks are said to be locked in a bidding war for what they hope will be a ratings-busting exclusive interview. The longer that takes to secure and air, the more Corby can expect wild speculation to fill the void.
The harassment cuts both ways, according to Australian journalist Eamonn Duff, whose 2011 book Sins of the Father alleged Corby's now-deceased father trafficked drugs between Australia and Bali on commercial flights. The pillowcase-sized bag of marijuana found inside his daughter's bodyboard bag was part of the scam. Corby has always protested her innocence.
Duff, a reporter at Sydney's Sun-Herald, says he's been the subject of threats and intimidation by a "cult-like" group of Corby supporters.
The family, who are suing his publisher for defamation, are also reported to have taken legal advice over the screening of last night's telemovie based on the book.