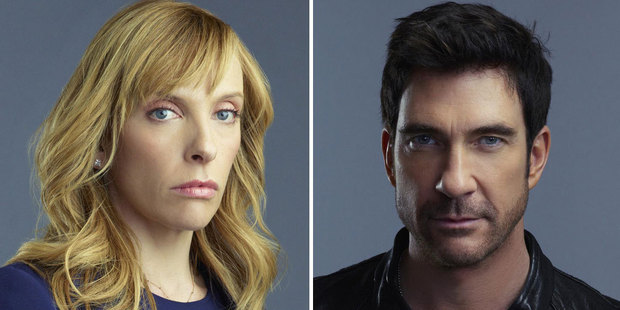 We get a sense very early in the first episode - or the first half of tonight's double-episode on TV One - what kind of show Hostages is going to be. We start with a mysterious cold open in which four masked gunmen surround a suburban family in their home. Who are they? What do they want? We're going to have to wait to find out.
In fact, I thought two press conferences, which effectively bookended that first instalment, told me everything I needed to know about Hostages going forward.
In the first, Dr Ellen Sanders (the lead, played by Toni Collette) is a top surgeon addressing a press conference where she has just announced her plan to perform surgery on the President Of The United States. "His life is no more important than any of my other patients, " she says calmly, "which is to say that it's the most important thing in the world."
It's a telling moment for the character, painting her as a compassionate, morally upstanding human being who values every life.
It also asserts that she takes her job extremely seriously. So when a corrupt hostage negotiator, Duncan Carlisle (played by Dylan McDermott), kidnaps her family then tells her that she has to kill the President in order to save their lives, you know that it won't turn out to be that easy for the negotiator-turned-hostage taker.
By the time we get to the second press conference - held after Ellen secretly switches out a standard anaesthetic with a blood thinner, thus postponing the surgery without harming the President - things have gone horribly wrong for the kidnappers. And as Ellen stared down a news camera, addressing Duncan when she defiantly proclaimed "I don't give up that easily", I started to feel like things were going horribly wrong for the show as well.
I mean, let's call that final scene out for what it is - cheesy.
It's a damn shame, because the show had actually been pretty great up to that point. The premise - based off an Israeli television series - is strong and intriguing. As the show started, I was genuinely interested to see how things would pan out. The writing was efficient, and the on-screen execution tidy and good-looking, as you'd expect.
The performers were there too, even if the performances weren't quite. Toni Collette has accrued plenty of good will from me, owing to her stellar performance on United States Of Tara. Dylan McDermott is coming off a decent turn on the first season of American Horror Story. Even supporting stars like Tate Donovan, Billy Brown and Mary Elizabeth Mastrantonio are welcome faces in my scheduled viewing.
Yet, despite this, I couldn't throw myself right into the show.
Little things kept distracting me from an otherwise enjoyable thriller by dragging it into the low-quality terrain occupied by the likes of Beauty & The Beast - like the way McDermott's character, when questioned about what would have happened in a hostage situation if he was wrong, responds by saying "I wasn't." then walking off screen in near-slow motion. Or the laughably predictable fate of the family dog (drugged to sleep, not shot to death, dontcha know).
Maybe my biggest qualm with Hostages is the way in which they are planning to drag out this fairly basic story over the course of a fifteen episode season - with some of the most banal storytelling imaginable.
It seems the plan is to have the hostages live with Ellen and her family for a fortnight until the new surgery date, while solving some of their personal problems and keeping their secrets. The daughter is pregnant? "No problem, we'll help cover it up!" The father is having an affair? "Jump in the car, I'll drive you over there!" The teenage son has a $1200 drug debt? "I'll help find the cash to bail you out of that one, buddy!"
I actually find this kind of thing frustrating. The writing and production is fine overall, but poor story-lining has sunk what could have been a great series. As a reviewer, and as a fan, there is nothing worse than a show which is this close to being a really great hour of telly every week.
Hostages comes painfully close. I'd watch the hell out of a show where a surgeon is forced to kill the President and has to figure out how to avoid doing it. I'm not as interested in a show where a surgeon is forced to kill the president while her family solve their own pregnancy/extra-marital affair/drug-related problems with the help of a group of terrorists.
If I want an engrossing conspiracy thriller decorated with frivolous melodrama, I'll watch Homeland. Thanks.
Look, Hostages won't be the worst show of the year. It might even turn out to be a tidy wee serial drama. But it is definitely a front-runner for the most disappointing show of 2014 - the heart-attack inducing amount of cheese makes this a huge missed chance for the writers and for TV One. Colour me disappointed.
Did you watch the double-episode premiere of Hostages? What did you think?