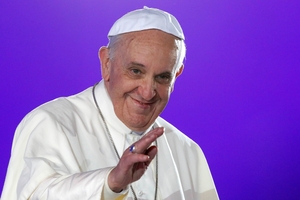 You may not have heard of Ken Langone - I hadn't until recently when he decided to take on Pope Francis.
In 1978, New Yorker Ken founded Home Depot, the mammoth US equivalent of Mitre 10. As a result of this, Ken, who grew up in a working-class family, has grown wealthy to the tune of $2.5 billion.
Ken knows about home supplies, money and Catholicism. He received a Catholic knighthood from Francis' predecessor, Benedict XVI.
Based on a slight acquaintance with the super rich, I've learned that they tend to have a few characteristics in common.
Most of them - contrary to popular belief - have very good manners and are well-spoken.
On the other hand, they almost always have come to believe that their view of how things are and how things should be carries more weight than most.
They also love giving money away, because the warm glow that results, especially if they get their name on a wing or a ward, is the sort of thing money just can't buy.
Ken, for instance, threw a lazy $6 million New York University's way to fund the Kenneth G. Langone Part-time Evening MBA programme, as well as donating hefty sums to set up Ken's Kids and the New York University Elaine A. and Kenneth G. Langone Medical Centre.
In November, Francis, who is a year younger than Ken but, like him, rose from humble beginnings to run an organisation that employs thousands, published a document that called for greater economic equality.
It included such inflammatory statements as "The culture of prosperity deadens us; we are thrilled if the market offers us something new to purchase; and in the meantime all those lives stunted for lack of opportunity seem a mere spectacle; they fail to move us" and "Money must serve, not rule! The Pope loves everyone, rich and poor alike, but he is obliged in the name of Christ to remind all that the rich must help, respect and promote the poor".
You wouldn't expect someone who runs one of the world's biggest shops to react well to this and, indeed, Ken did not. Ken said the pinko Pope's attack on the wealthy might - just might - make some rich people "incapable of feeling compassion for the poor".
In fact, Ken told a New York cardinal he had heard from one potential multimillion-dollar donor to a building fund who was having second thoughts.
Which sounds like classic stand-over tactics along the lines of "Nice little building fund you've got here. I'd hate to see anything happen to it." And, if nothing else, seems to prove the Pope's point.
I don't share the Governor-General's confidence that this year, "the family will be in the spotlight as the United Nations marks the 20th anniversary of the International Year of the Family".
It may, but I think more focus will be on the themes actually being observed by the United Nations rather than any anniversaries.
Many of you will have enjoyed celebrating 2013 as the International Year of Water Co-operation and the International Year of Quinoa.
But those will soon be forgotten as we enter 2014, which the UN has dubbed the International Year of Crystallography, the International Year of Small Island Developing States and the International Year of Family Farming.
So much to enjoy in just 12 short months, but for me only a prelude to events next year to mark the International Year of Light and Light-Based Technologies and the International Year of Soils.
After that, 2016, the International Year of Pulses, can only be an anticlimax.
Debate on this article is now closed.