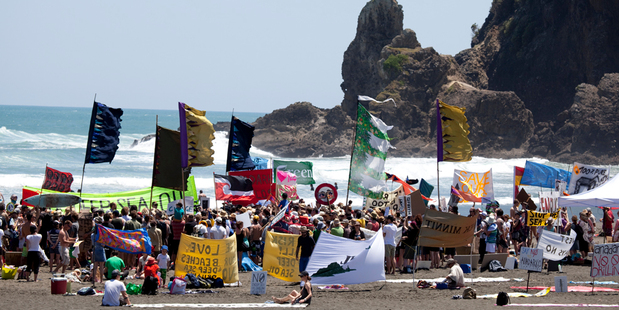 Now Greenpeace has given up its seaborne protest against exploratory oil drilling off Raglan it is not clear what it intended to prove out there. Once one vessel of its flotilla entered the statutory exclusion zone the protest statements became somewhat contradictory. Sometimes they said their action showed the exclusion zone was not justified, at other times they reckoned it proved Anadarko Petroleum was reckless.
"According to the industry's best practice they shouldn't really drill with anyone in the vicinity," said Greenpeace NZ's Bunny McDiarmid, "so we'll see if they just go ahead and drill." Well, they did, at 2.30am yesterday, and the protesters wisely decided to end their vigil and take their serious concerns to court where their arguments can be properly considered.
They achieve nothing with attention-seeking stunts that put them at risk of arrest or worse. Few people can summon much sympathy for the North Sea protesters who have been held in Russia, since they knowingly ran the risk that they would meet that fate.
To the credit of Greenpeace NZ, it has not tried to similarly board Anadarko's drilling ship but the same principle applies to their breach of the statutory cordon. The protesters were daring the authorities to enforce it.
Had they been arrested, they would have deserved the consequences. But the police were wise not to bother. The exclusion zone exists for purposes of law enforcement, so lawful drilling operations can proceed without disruption. The area does not need to be cleared unless those who enter it seem intent on putting themselves in harm's way.
Greenpeace will now ask the High Court to review the Environmental Protection Agency's approval of Anadarko's exploration of the Taranaki basin. There are, no doubt, questions to be asked about the assessments of the risk of oil spills, the precautions to be taken and the contingency plans if a spill occurs. But the public should not be led to believe that the risks are high.
Drilling for oil and gas in the Taranaki basin has been happening for 50 years. Offshore drilling in other parts of the world has been happening for much longer. A solitary accident in the Gulf of Mexico has been used to promote excessive public fear. The risk is being exaggerated by Greens, who are less worried about an oil slick on the sea than global warming. Objections to deep sea oil exploration are part of a larger agenda to discourage the use of fossil fuels.
When the container ship Rena hit a reef off Tauranga two years ago it was described as New Zealand's greatest maritime environmental disaster. The ship spilled 2500 barrels of oil, some of which reached the coast and was met by a cleaning operation that had the beaches re-opened in two weeks.
A report commissioned by Greenpeace last month imagines an undersea drilling accident could release 40,000 barrels a day. If we have an oil well of that scale and pressure under our continental shelf it would be very good news indeed and we should find it.
Unfortunately for our prospects of wealth, but reassuring for our coastal environment, few experts agree with the Greenpeace report. If oil or gas reserves can be found, they are likely to have a gentle flow more easily plugged.
The risk of an accident naturally increases with ocean depth. Anadarko is drilling into the seabed 1500m deep off the west coast of the North Island, later, east of the South Island. The company is one of several that may look deep into our exclusive economic zone this summer. New Zealand needs to know what is there.