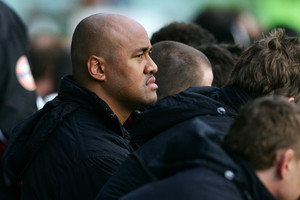 Shameful chapters in New Zealand rugby have reduced but the NZRU's inability to unite with Jonah Lomu remains one of their neglectful episodes.
That came into further focus with the recent release of Anger Within, a television documentary about the deadliest strikeforce in world rugby who is facing a much greater fight to deal with his failing kidneys.
Lomu made his test debut in 1994 against France, the documentary was made by French production company 1892 Corp and the All Blacks are about to play France this Sunday.
The documentary weaves together footage and interviews in a compelling watch about Lomu's life.
It shows him sidestepping early trouble before heading to Wesley College and his recovery through rugby, appearances on the world stage which masked the start of his kidney problems and the remarkable footage of his personal traumas.
Lomu is a global superstar and despite cameos such as his appearance in the 2011 World Cup opening ceremony, he does not work under the NZRU banner. The man connects strongly with his two boys in the footage and would be an incredible magnet to influence youth in New Zealand.
He relates strongly to children, he understands how Polynesians connect with rugby, he is a superstar who wants to give back yet is strangely underused.
He was involved in several All Black tests which had devastating conclusions, including the infamous extra-time 1995 World Cup final at Ellis Park when food poisoning and Joel Stransky lowered the tourists.
Four years later he stumped up against France in the World Cup semifinal, battered through his bewildered foes for two tries then watched as France took flight and his colleagues collapsed to a shock loss.
It was a massive hit for everyone but amidst the shuddering disbelief, Lomu and a handful of teammates had the grace to stay on Twickenham and applaud their opponents.
On Sunday the same sides go at it again with the All Blacks favoured as much as they were in 1999.
France are yet to play a test in their new programme and have a growing injury list while a clutch of senior All Blacks endured an airport shutdown at Los Angeles en route to joining the tour in France.
The All Black selection is not straightforward and coach Steve Hansen must treat the three-test stretch with France, England and Ireland like a World Cup.
Around that he has to sift his resources with awkward choices at tighthead prop, hooker, lock, first five-eighths and wing. What he'd give for Lomu on the left flank - but he does have strong choices with Julian Savea, Charles Piutau and Cory Jane.