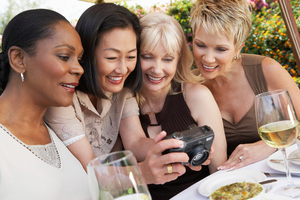 Do you dread getting your photos developed? Don't. It's getting easier by the year. Home photo printers have improved and there are many online photo printing sites and in-store kiosks competing for your dollar.
Forget sticking individual prints one by one into photo albums. For at least five years now I've had my annual batch of photos printed straight into a photo book album in scrapbook-style layouts with custom backgrounds, fancy layouts, and pre-printed captions.
It's quick and easy.
A 20-page A4 photo book costs $59.95 at Snapfish.co.nz, or $34.95 at Fotofinish.co.nz.
I usually bide my time and buy my albums via GrabOne or Treat Me, where the cost is usually significantly less than the regular price.
GrabOne has a deal today offering a 50-page hard cover photo book for only $37.
One thing I love about 21st century photography is that amateur photographers can have their photos printed on canvas. There is lots of competition and prices are often very keen.
A recent deal on GrabOne was offering canvas prints from $38 for 40x50cm to 100 x 150cm for $155.
For the record, Kroma, which was the company behind that deal, has equally cheap offers this weekend direct at its website Kroma.co.nz.
Some people prefer to print their photos in person at an in-store kiosk rather than uploading their photos online.
Shops such as Warehouse Stationery, Unichem and Life pharmacies, and Kmart have photo processing self-service kiosks.
There are pros and cons for both methods. I sometimes find the software provided by photo processing sites to be cumbersome.
Photo kiosks don't allow you to do as much as you could online. But you can still zoom and crop, reduce red eye and restore colour to old photos or turn a colour one into sepia or black and white.
Some of the kiosks also allow you to access photos from Facebook or Picasa and print direct.
Jason Bell of Noel Leeming says more and more customers are snapping photographs on their smartphones and walking into his stores to have them printed immediately at a kiosk.
As well as regular 6x4" prints, Warehouse Stationery has Instagram-style 4x4" photos, which are proving very popular with teenagers in particular.
If you're starting to think of Christmas presents for hard-to-please people, consider having photo gifts such as mugs, calendars or even mobile phone cases printed.
It's often possible to have them printed in the country where your friends or family live.

Deals
• Fotofinish.co.nz: 50 per cent off everything until tomorrow. Use code 50SEPT13 at the checkout.
• Snapfish.co.nz: 60 per cent off all photo books until tomorrow with the code SUPERSIXTY913.
• Kroma.co.nz: Up to 75 per cent off canvases with free delivery until tomorrow.
• GrabOne.co.nz: Tomorrow only - $10 photo blocks
• Snapfish.co.nz: Free standard pick up in a Kmart store until October 1 for orders of $10 or more. Use code: PICKUPSEPDL on the website