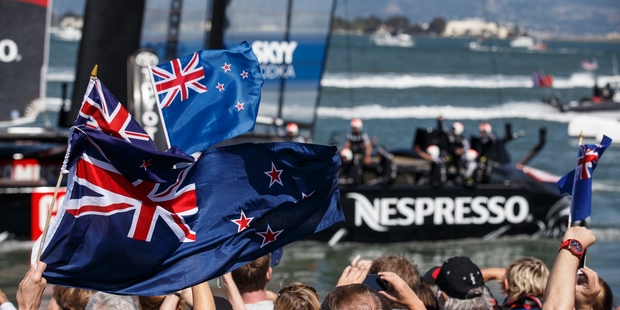 Dean Barker and the team might not know what they have done for us. We keep telling them we are proud, a word which will make no sense to them yet, or possibly ever. Because they are sportsmen.
Most of us are not. That is why, until Thursday morning, we did not understand defeat. Utter defeat, no excuses. Complete, honest, exhausted defeat.
At work in the morning people were quiet. There was some desultory discussion of what went wrong but it was just to fill a void. We were past that. Many eyes were glistened with a shared sense, I think, of something beyond sad.
It was quite different from the feeling after too many Rugby World Cup disappointments, when we have been winning comfortably in the first half and the second has been a nightmare of missed chances, luckless decisions and time remorselessly running out.
Yes, I know, but this was different. I don't think we are frustrated and furious, seething with blame and calling for recriminations. I don't think anyone is about to boo the coach's horse.
Yet we were just as involved. Hell, we were involved. Many were confessing to stress, a point came when they couldn't watch in the mornings. It was just too hard.
Poor Martin Tasker didn't help. The man was in agony long before he needed to be. There must have been times Peter Lester could have cheerfully throttled him. I'm surprised TV One's producer didn't. Still, they provided a diverting case study of the difference between a sportsman and one who is not.
I suspect we could have divided the population into Taskers and Lesters this week. But whether you found you are a fatalist or a competitor, those spirits come together in defeat.
We are so often lucky to be a country capable of competing in this league yet small enough for everyone to feel the intensity of national success and failure.
We tasted success on this scale two years ago. Since Thursday morning I have been having flashbacks of the jubilation in K Rd, where the media bus gave up trying to edge through the crowds after the Rugby World Cup final.
Oddly enough, I don't remember how it felt in 1995 when we won the America's Cup, or when we failed to win it back in 2003, maybe because it felt like unfinished business then. Now? It feels like the end of an era.
The television feed from San Francisco gave just a fleeting glimpse of Barker afterwards, still at his helm, standing, sobbing. Grant Dalton was nowhere to be seen. His technical director took a call from National Radio as they were bringing the boat in and he kept choking up.
It feels as final as defeat can be.
But it doesn't feel like failure. I hope it doesn't feel that way for Dalton, Barker and the team. They have dedicated the best years of their lives to regaining the Cup that Sir Russell Coutts took away.
Three times it has eluded them. Three times is enough. It is time to salute the mountain, honour the foe. Think about what Jim Spithill and his crew managed to do.
It wasn't just a faster boat. Sportsmen can never blame their equipment entirely. Imagine how tough someone needs to be to make up a seven-race deficit when every day you face matchpoint?
Think about it. You have absolutely no margin for mistakes. Every decision must be right, every race every day. Somehow, through all the tension Spithill remained sitting at his helm. Then he would come off the water, go into a press conference and in that hard confident Australian way, every word he used was designed to mess with Barker's mind.
Barker knew it and ignored it. When he said right until the end he would sooner be in his position, he meant it.
This was an epic that I never expect to see again. If they continue to race these boats, and surely they will now, they will know them better. We have been present at the birth of a new plane of sailing.
The days following the disappointment are not the right time to decide this was our last America's Cup. It is not just a sport, we are a global centre of excellence in its industry, too. Team NZ not only mounted the strongest challenge this time, it helped one of only two others that made it to San Francisco. If we lose interest, Larry Ellison could be left holding a lonely prize.
But Dalton, Barker and their team have done enough. They have taught us the difference between defeat and failure. Defeat is almost sweet when the effort has been immense and we can shed a tear together.