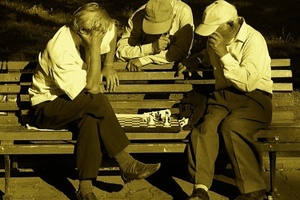 Once, on a trip to Sweden, I took a look at Stockholm's excellent Kulturhuset (culture house), a community facility that Auckland can only dream about. One of the floors (it contains a library, one of the best newspaper libraries anywhere, a theatre, cinema, art gallery and exhibition halls) was given over completely to chess.
As I walked through, a young lad, about 12, hailed me in English and asked if I wanted a game. A keen (but not very good) amateur player, I thought I stood an excellent chance of beating a 12-year-old. I was spanked in 28 moves. The little snot.
I was reminded of this yesterday - the day San Francisco police closed down the decades-old tradition of street chess because of drugs and gambling.
Chess as a cover for drugs is a novel concept but that was why police seized tables, chairs and playing equipment from the area round Fifth and Market Sts - an area frequented by a lot of homeless people who were also the main players of street chess.
The regular chess players weren't the problem, said the San Francisco Police Department, but the illegal gambling and drug use that went on round it was.
Many American cities - and many in Europe - have street chess and there is something comforting about seeing it in action; it says something about the death of civilisation not being that far advanced.
And before anyone loses all sympathy for the chess players on the basis that they are mostly homeless (and most of the homeless here receive a small stipend from the city fathers in lieu of any other solution to the homeless problem), it's important to state that ordinary folk who like chess have played there, as have San Francisco Giants baseballers, San Francisco 49ers football players and others of note.
In a town square sort of setting, anyone who wanted to play sat at a table and went at it. Sometimes the winner won $1, at other times there was a small fee for playing (50c or so) but business owners bordering the chess area have said business has improved now that people do not feel so threatened.
Local welfare agencies have decried the action of taking away activities from isolated people who need them to have some sort of interaction.
True, but it can be threatening at times, particularly in the Tenderloin and even in the Mission and Haight-Ashbury areas where homeless congregate. It's a problem that won't go away; drugs will also not go away.
But getting rid of street chess seems a strange way to put it in check.