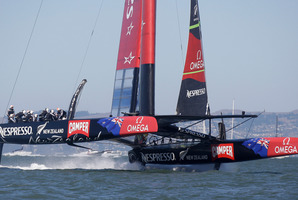 San Francisco's St Francis Yacht Club - the one Larry Ellison didn't select as the Cup defender - has just lost a sailor whose life was devoted to eliminating noise, a man whose passing also demonstrates the rapid pace of technology.
Ray Dolby, 80 when he died, was the inventor of the Dolby System - used to eliminate the hiss on that deceased bit of stereo technology, the cassette deck. Its main function was to gain a better result when recording a vinyl album to a cassette tape; the hiss produced when doing this irritated a generation.
Now, of course, downloads, digital memories and the internet have made all that redundant and the humble tape deck is no more.
But don't let that sound like Dolby's day was done. Far from it. Just about every movie you see has a Dolby label on it, allowing film makers to do far more with sound as a cinematic art form and expression than they used to. George Lucas always said Dolby's sound was part of how Star Wars became such an engrossing experience for millions.
Dolby's sound technology has been incorporated into more than 7 billion consumer products, including DVD players and HDTVs - so his work lives on. He sailed out of St Francis YC, had his own aircraft and drove around town in a bus like those that rock stars favour.
Dolby Laboratories is a company with 1600 employees and traded on the stock exchange. Dolby also became synonymous with the San Francisco Symphony and San Francisco Opera and he became a director of the symphony in the mid-80s, protesting that he knew little about natural acoustics, only electronic acoustics. Yet, of course, the acoustics for recitals were always perfect, according to his fellow directors.
His work also inspired the British musician Thomas Dolby (best known for his 70s song She Blinded Me With Science) whose day job as a sound engineer brought him into everyday contact with Dolby's technology.
And every time you see the Academy Awards on TV, know that they are hosting it in the Dolby Theatre. San Francisco is planning a celebration of his life.