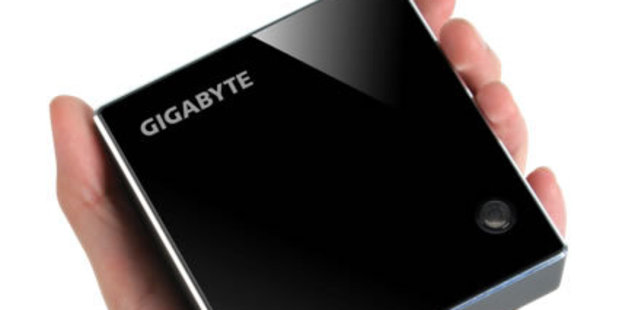 We've come a long way from my first beige IBM XT clone back in early 90's. It wasn't going to win any prizes for looks, and at the size of a large suitcase, it was also a hernia-busting bit of kit that was built like a brick you-know-what house.
Sporting a 4.77Mhz CPU and mono Hercules graphics, I am still stunned that it ever managed to run gaming titles like populous. At the time if someone had said to me that only 20 years later I'd be able to get a PC that fits into the palm of my hand and has the sort of graphics and processing power that would have most certainly been a classified military secret back in the 90's, I'd have laughed.
Nowadays however it mightn't sound too far-fetched, especially thanks to games consoles, but getting a half decent games PC that is small enough to occupy a niche in your lounge seems to have remained a tricky proposition even to this day. Dell had a crack at it with their console-like X51 PC, as have a bunch of other manufacturers. Nothing has really set the world on fire.
Which is of course a real shame, the PC has a massive ecosystem of games and thanks to the Stream online game store, getting said games is now easier than falling off a log. Add in the free to download XBMC media centre and you've also got a smoking hot media centre that'll handle most media formats with relative ease.
Gigabyte however have taken things one step further by taking advantage of Intels latest CPU to develop the Brix II bare-bones PC that is housed in an insanely small chassis. By Adding in recently launched Haswell silicon (which includes much improved integrated graphics), they've managed to craft a tiny games machine that'll also do a great job of games and most multimedia chores. When I said insanely small, I'm not kidding - the Gigabytes box of tricks is only 29.9 x 107.9 x 114.6 mm, making it small enough to fit in the palm of your hand (or on the back of your TV using a VESA mounting bracket).
Although Intel integrated graphics have been largely written off by serious gamers, the newer generation Iris Pro graphics baked into the Haswell are supposedly equal to low Nvidia's GeForce GT 650M, which in the case of the Brix, translates into a surprisingly versatile yet oh so petite games/multimedia platform.
Gigabyte has been showcasing the Brix II at the Intel Developer Forum in San Francisco this week, and it has been running games titles flawlessly at 1080p (Gigabytes marketing bumpf claims it'll support 4K HD resolutions too). Most game titles can run (albeit using lower graphics settings) smoothly with few issues and it'll also handle HD video, making it an ideal box for running XBMC.
The Brix is selling in the US for US$499-$599 (depending on which base spec you want) and comes with HDMI, four USB 3.0 ports, Gigabit Ethernet on its rear, plus baked-in Wi-Fi, plus a 3.5mm audio jack on its front panel. The compelling sticker price has one catch - the Brix II is a barebones system so you'll also need to factor in RAM, a hard drive, and of course an OS. With those sorted, you've got the makings of an incredibly tiny games box/media centre PC.