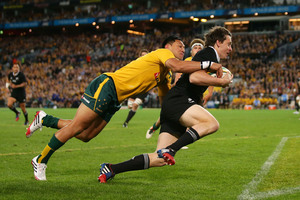 The World Cup is more than two years away and already there must be a few players in or close to the squad who are starting to get edgy about whether they will make the final cut.
Good players are once again falling out of trees. A few first-fives break down; no problem, there's a handy bloke called Tom Taylor patiently waiting and another by the name of Slade who not so long ago was the heir apparent.
Ben Smith scored a hat-trick in Sydney and has been the outstanding outside back of 2013. Yet when Cory Jane returns from knee surgery, Smith might only make the bench.
Then there is the prospect of Sonny Bill Williams returning - next year or in 2015. Regardless of when he comes home, Williams will present one of the tougher choices - him or Ma'a Nonu at second-five.
What if Jerome Kaino decides to come back, too? He'll be competing with Liam Messam, Steven Luatua and the recently called up Brad Shields and Luke Whitelock, not to mention Victor Vito.
There's the prospect of Ben Tameifuna finally getting himself fit enough to be considered for test duty. The hugely promising 2.08m Dominic Bird should establish his test credentials before year end and there is the outside chance that Richard Kahui will stay in one piece while he's in Japan and fancy a return in 2015.
Even this far out, there's growing certainty that once again the challenge for the All Black selectors, come World Cup time, will be determining who to leave out. Injury and form will partly dictate that but to nowhere near the same extent as many imagined this time last year.
There has already been some culling - Ali Williams and Piri Weepu have been the highest profile casualties. The veterans that remain aren't such high risk candidates to make it through another two years.
Tony Woodcock's got plenty left in him. Nonu seems indestructible and is playing better than ever. Conrad Smith's sabbatical gives him more than a fighting chance as does Dan Carter's. Richie McCaw just isn't a risk at all of not making it - even if the cheap shots are relentless - and it's probably only Andrew Hore and Keven Mealamu who carry a serious question mark.
The situation at hooker is a concern now, but in another year, certainly in another 18 months, what's the betting the All Blacks have found at least one bright new thing, if not two? It wouldn't be a surprise to see Rhys Marshall starting and Liam Coltman coming off the bench and everyone wondering why they were ever worried.
The rest of the world can only watch on in awe and considerable envy at how the All Blacks endlessly regenerate. They can only wonder how it is that the All Blacks will inevitably have to omit players who would walk into other test sides. That's the way it is, though - All Black World Cup squad announcements have been dominated since 2007 by those who have been rejected and 2015 is unlikely to break the trend.