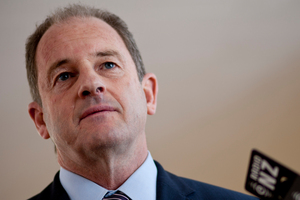 It was in a rather grand display of statesmanship that Labour leader David Shearer stood in Parliament on Tuesday to talk about the Fonterra whey powder contamination and announced Labour was "standing alongside the Government" as it dealt with the fallout on parents and global markets.
That transitory show of concomitance disappeared very soon afterwards, when the debate on Fonterra ended and the GCSB bill came up for debate.
Labour had announced in advance it intended to deploy delay tactics. It used the Americanism for such behaviour - filibustering, a tactic that usually results in amounts of silliness.
Labour and NZ First MPs acted in harmony by putting up umpteen "questions to members" - questions on top of the usual 12 allocated to ministers which allow MPs to ask questions of select committee chairs or backbench MPs who have a private member's bill up.
In question time itself, David Parker did his two cents' worth, putting up a valiant point of order after Prime Minister John Key described the Opposition as "muppets". There ensued debate about whether such language was decorous. The Speaker set his mind to it, and decreed: "I am certainly not about to rule the word 'muppet' out of order."
There were sighs of relief from all sides - including Key, who has long used it as a term of endearment for his Labour Party friends, Finance Minister Bill English, who uses the descriptor "muppet-nomics" to describe Labour's economic plans, and Labour MP Kris Faafoi, who back in February put some effort into defining which ministers were "muppets" according to the Urban Dictionary definition of "a person exuding an air of confidence that is mutually exclusive to that of their accomplishments or ability".
Back to the filibustering: Key gave them a hand delivering a ministerial statement on the Fonterra issue complete with speaking rights for all other party leaders, bar Peter Dunne due to his status as party leader being in hiatus. Then the Speaker pitched in allowing an urgent debate Labour had applied for on the same issue. Finally, there was the coincidental delay in new Labour MP Meka Whaitiri's maiden speech. So they whiled away three hours between the usual end of question time and when the House rose for dinner. It wasn't until 7.30pm that MPs returned to debate the GCSB bill.
Then the battle of the scaremongers started. Labour accused National of scaremongering by saying New Zealand was a hotbed of al-Qaeda operatives, people smugglers and people building weapons of mass destruction in their garden sheds. National's Anne Tolley and Attorney-General Chris Finlayson said Labour was scaremongering by inflating the impression that all New Zealanders would find suspicious little devices hidden in their teapot spouts.
The real political advantage to National in securing the support of Dunne for the bill also became increasingly clear. He has previously revelled in his "power of one" status as the casting vote in Parliament, most notably when he used it to ensure a member's bill to Monday-ise Anzac Day and Waitangi Day passed.
He has now found the other side of that coin. For it is Dunne, rather than the National Party, who has become Public Enemy Number One for flipping his original stance to support the bill, in return for some changes. Much was made of Dunne's objections to the release of his own phone and email logs to the Henry inquiry into the leak of a GCSB report, with claims Dunne appeared to be happy for all New Zealanders other than himself to have their metadata trawled.
It's not a totally accurate argument, but when there is a climate of hysteria and paranoia to be whipped up, why not make the most of it? So Dunne was shouted down when he first stood to speak on the bill. Labour MP David Cunliffe was even accused of changing seats so he could heckle Dunne more effectively.
It was left to Labour's Clayton Cosgrove to take the debate to a higher level. Cosgrove said he went to a Catholic school and he had a biblical quote for Finlayson. "As a dog returneth to his vomit, so a fool returneth to his folly." He had a further biblical reference for Dunne, of Judas' betrayal of Jesus. "The cock crowed thrice as Judas picked up his 30 pieces of silver." This only resulted in his being pulled up by the Speaker demanding he call his colleagues by their proper names. "I apologise to Judas," Cosgrove replied, before going on to amend it to "Peter Dunne picked up the 30 pieces of silver", although in this instance, Cosgrove could only assume the coins were the promised reward to move Dunne from the dogbox to an ambassadorial post in "Beirut or Somalia, or somewhere quiet".
Green MP Catherine Delahunty also had something to say, describing the Security Intelligence Service as "the Thomson and Thompson Tintin police" and saying she was spied on as a schoolgirl activist. She described her 15-year-old self as a "scary, terrifying, terrorist". It transpired Trevor Mallard had gone to school with her, and judged this assessment accurate: "You terrified me."
Mallard, meanwhile, was concerned with feeding Finlayson's "jurisprudential fetish". He had found an apparent impossibility in the bill - "a technicality on which he can get off". He pointed to a definition of "incidentally gathered intelligence", which was (a) intelligence obtained in the course of gathering intelligence on foreign organisations, but (b) not intelligence of the kind referred to in paragraph (a).
Mallard dispatched Finlayson to gnaw away on this, like a dog issued with a chewy treat, until MPs get the chance to return to bring yet more clarification to the same bill today.
As for the beautiful concord over Fonterra whey, it lasted a day. By question time yesterday, everything was again all the Government's fault, its sins ranging from penny pinching folding of the Food Safety Authority into the Ministry for Primary Industries to being responsible for factory inspectors not foreseeing Fonterra might not clean the guilty pipe.