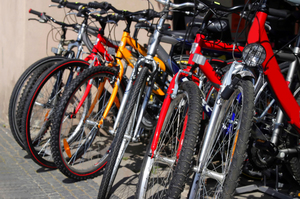 The debate over GST on international purchases is raging in retail. Ask any cycle shop owner and you'll get an impassioned speech on the subject.
Local cycle retailers are feeling the pinch from international suppliers such as Wiggle.co.uk, Merlincycles.com, and ChainReactioncycles.com, which I'm told are landing the equivalent of several container-loads of purchases in New Zealand every week.
The reason is that these massive UK bike retailers with their economies of scale can undercut our local stores hands down.
I did a fairly random comparison of prices. The Wilier Granturismo SRAM (2012) road bike was $6,549.99 at Torpedo7.co.nz, including delivery. The closest model I could find in the UK was last year's model, which was $5,235.70 from Wiggle.
That price included delivery to New Zealand, duty and GST figured out using the New Zealand Customs Service's Whatsmyduty.org.nz calculator. This level of savings on bicycles, clothing and parts is common.
I feel torn when buying bicycle gear. I love the four cycle shops on Barry's Point Rd, Takapuna, and spend money at all of them. Yet I admit I've bought a few more expensive items from Wiggle and elsewhere thanks to my natural inclination for a bargain and dislike of having to get in the car to go shopping.
For the record, I would be happy to pay GST on all of my purchases from overseas.
The reason Wiggle and others can sell so cheaply from the other side of the world is due to a number of factors. One is sheer scale. They also remove the UK VAT for deliveries outside the EU. What's more, the New Zealand dollar is historically high and the pound low. Should either or both exchange rates move, stores such as Wiggle and Merlin may no longer be as cheap.
There is no doubt that retailing is going through the churn in New Zealand and the result may be fewer stores. Local bike shops are metamorphosing and will always have a role to fill. You just need to go to them and look at the joy the customers get from browsing and buying.
The experience of shopping for bicycle gear in a shop has a wow factor that shopping online will never replace.
If you only want to shop in New Zealand, there are several online outlets that are relatively competitive, including Torpedo7, Evolutioncycles.co.nz and Bikelab.co.nz.
Some stores, such as Bike Barn, will offer free delivery on all goods or those over a certain amount.
If you want a new bike, it can be worth buying it from a store, which will usually offer a number of free services in the first year.

Deals
• Bike Barn 20th Birthday Sale. Half-price on most items storewide.
• Torpedo7 4 Bike Rack, $99.99, at Torpedo7.co.nz
• Bikelab.co.nz Giro Athlon 2013 helmet, $94.99. Online only.
• 2013 Giant Men's Boulder 1 mountain bike, $599 , at R&R Sport.