Nowhere in NZ is immune to ongoing seismic tension.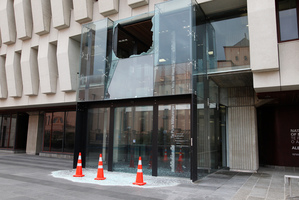 Not again. The earthquake that shook Wellington and much of central New Zealand on Sunday evening was big enough, and lasted long enough, to bear comparison with the quake that shattered Christchurch less than two and a half years ago. Sunday's was 50km further from the city and did a fraction of the damage but at magnitude 6.5 and just 11km deep it might have been as devastating had it been closer.
More worrying, it was bigger than the first quake felt in the sequence that has occurred in the same region of Cook Strait since Friday. None of the aftershocks in Canterbury, even the most destructive, reached the magnitude of the initial rupture.
Wellington has also felt more frequent big shakes in the past few days than Christchurch did during its 16-month ordeal and Wellington's is probably not over. The last time it experienced a "swarm" such as this, in 1950, it lasted a month.
An interval of 63 years means very few people in Wellington can remember anything like this. It also means that what is happening is not unusual, since 63 years is a mere moment in geological time. New Zealand straddles a boundary of tectonic plates and probably there has been a moment in every lifetime when its inhabitants have been reminded of the pressure that is always building beneath them.
As terrifying as it can be while it lasts, an earthquake is a catharsis. The energy released had to be released at some time. If science informs the global insurance industry, it should realise that the seismic risk it covers in New Zealand is no greater now than it was before the Canterbury and Wellington quakes; it might even be lower.
Unfortunately, the science seems not to know much about active faults until they reveal themselves in an earthquake, and cannot predict that movement in one fault will cause another to snap. The best geology can do is read previous movements in known faults and tell us whether another is due. It estimates the Great Alpine Fault along the western edge of the Southern Alps is due to move again but doubts the recent quakes are related to that imminent event.
It is fortunate that half the population lives in parts of the country so far from the plate boundary that they barely felt the latest quake. But, as Auckland was reminded recently, nowhere is immune to seismic tension. Every town and city must see that new buildings meet the required earthquake standards and that the public is aware of those that do not meet the code.
The royal commission of inquiry into Christchurch building collapses suggested stronger action - a deadline for councils to require unreinforced masonry buildings to be brought up to one-third of the new building standard or be demolished. The proposal was endorsed by officials of the Ministry of Business, Innovation and Employment, who suggested councils be given five years to list earthquake-prone properties and owners be given 10 years to do something about them.
The consequences for suburban and town centres with a colonial character could be dire. The Government has yet to be persuaded such a drastic step is necessary. Wellington's experience over the weekend need not persuade it. The capital, conscious of its fault line, has the highest earthquake requirements of any city in New Zealand and its buildings appear to have stood up well to stresses on them this time.
But regulators concede that no building code offers certain safety. Too many uncertainties lie in the rock structures below. It is a hazard we can only learn to endure.