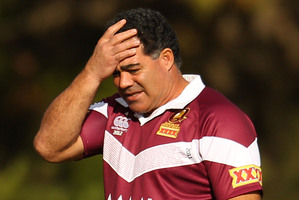 At last we know the answer. It hasn't been the rugby league players getting in trouble for booze, violence and sexual offences. It's all down to the media ...
There we all were, pondering why so many NRL players seem such meat-heads and the solution was in front of us all the time: stop the evil media reporting and the problem goes away. Simple. Wonder why we haven't thought of it before?
We owe a debt of gratitude to Big Mal Meninga, the coach of the Queensland Maroons in State of Origin, for revealing the secret. Biffed out of a Brisbane hotel at 1am for trying to step behind the bar and serve himself a beer, Meninga blamed the media for creating yet another controversy.
But wait, we haven't got to the punchline yet. This all happened hours after Big Mal - allegedly one of league's nicer and gentler characters and unquestionably in a position of responsibility - declared he was fed up with the sport's image being blackened by booze-related, off-field behaviour. This was after the indecent assault charge against New South Wales winger Blake Ferguson and the four-times-over-the-limit drink-drive charges against New South Wales prop James Tamou, both of whom have been suspended.
Meninga's anger at the media came for making a big deal of what he considered was his small misdemeanour. "When national TV uses it as a lead story this morning I find it quite ludicrous really," he said. "I am a littlebit disappointed with the way it has been managed by the media, to be honest."
To be honest, Mal, what kind of a drongo are you?
The game is dragged into disrepute by boofhead players, you criticise their behaviour and are then caught out with a little bit of alcohol-fuelled misbehaviour when celebrating the 30th birthdays of Maroons stars Billy Slater and Cameron Smith.
All right, on a scale between not making the bed when your wife asks you to and mass murder, Meninga's crime is not a big one. But that is demonstrably not the point.
Meninga seemed unable to link the fact that being in a bar boozing at 1am during Origin is probably not a good look even before he tried to serve himself - certainly with all the furore going on about too many alcohol-fuelled incidents involving NRL players.
But even that's not the point. It's the attitude; the sense of entitlement; the knowledge that after a brief storm, the clouds will part and the wrongdoers will be able to pick up their megabucks career with impunity; where their heroics will be reported by ... yes ... the media.
The same group of people and companies who build some of these meat-heads into such a profile that they obviously feel they can behave how they like, without a thought for anyone else.
There are deeper issues here - NRL players' attitudes and actions towards women and a drinking culture that would be self-destructive if it wasn't for the fact that the NRL is always there as a safety net.
Get into trouble at your club and get your contract ripped up? Not to worry. There'll be another club who'll take you and who'll think they can cure you of your woman-abusing and/or violent and/or drunken ways. There have been dozens of examples.
Herald on Sunday columnist Hugh McGahan played the blame game when criticising the controversy over the Paul Gallen-Nate Myles punch-up in Origin I. The gist was that the media had whipped up the debate; made more of it than there needed to be.
It's a horse and cart argument; the decision, pre-game, to cause the stoush came first, then the execution and then the furore. The media's fault? I don't think so.
Again, there is a deeper issue. Look at a game that wants to market itself with a "mate-against-mate" mentality; an environment of anticipation and expectation of violence - so don't shoot the messenger. There is, at best, complicity there.
Take a look, too at the likes of Myles. "Defecate Nate", he's known as. There he was a few years ago, outside room 603 at the Terrigal Crowne Plaza, drunk and confused and desperate for an evacuation - so he did it on the carpet. Not only is he still playing NRL, he's still a fixture in the Queensland Origin side and the target for Gallen's pre-meditated biffo.
What this all adds up to is a game that doesn't really care about its players' actions. There are all sorts of attempts to amend this, yes, like New Zealand's Nigel Vagana who is apparently doing a great job in the NRL's player mentoring efforts.
But the likes of Meninga make it clear that entrenched attitudes are not changing quickly.
There are more efforts to avoid these situations but nothing much has changed since the infamous Bulldogs' gang bang incident of 2004 where (although no charges were laid because of lack of evidence) a woman complained she had been gang raped, surfacing the practice of group sex in the NRL.
Australia's Julian O'Neill vomited over the walls of a motel and defecated in the shoe of a team-mate in what became known as the "poo in the shoe' incident.
He also drunkenly tried to set fire to a 13-year-old boy who was wearing a foam rubber dolphin mascot suit while on a river cruise in Port Macquarie.
Todd Carney was involved in three drink-provoked incidents in 18 months before the NRL finally refused to register him - and he's back playing now. Craig Gower exposed himself in a bar in 1999 and in 2005 infamously groped the teenage daughter of league legend Wayne Pearce, chased Pearce's son with a bottle before vomiting on him, streaked naked around a resort and totalled a golf cart in one notable rampage.
New Zealand's Tevita Latu was turfed out of the NRL for hitting a woman and breaking her nose. Australian test players Mark Gasnier and Jarryd Hayne were involved in an ugly booze-ridden weekend that culminated in a drive-by shooting, with a bullet fired at them in King's Cross. There have been many, many more.
Yep, must be that pesky media at it again ...