Aficionado Don Kavanagh puts his reputation as a beer lover on the line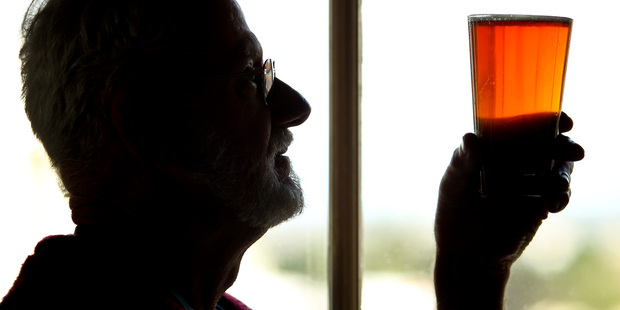 I've never had what you'd call an easy relationship with education.
Going to a school staffed by abusive psychos certainly didn't help, but also I'm someone who learns by doing. And I am about to get a real hands-on lesson shortly in how to do well something I used to do badly.
I've signed up for the Media Brew competition at Beervana in August and have to brew a beer that will be judged against other journalists' beers. Given that I write about beer, I'm going to look pretty dumb if I don't make a good one.
My past experience in making a drink from scratch has been distilling. I used to help my uncle make poteen, an illegal Irish whiskey that is either the greatest drink on earth or the greatest poison, depending on whom you ask. Beer brewing was limited to occasionally making an utterly vile muddy brown ale in my late teens with some similarly poverty-stricken friends.
Thankfully, I have help. Poor Hamish Ward from Deep Creek Brewery in Browns Bay has drawn the short straw and will have to help me through the process of brewing a beer, from coming up with a recipe, through the brewing process and finally presenting it to the thirsty hordes at Beervana, doubtless rolling his eyes at every step of my ham-fisted attempts to grind something drinkable out of the vat. I hope he has a good therapist.
Despite my trepidation, there is also great excitement in trying to come up with a new beer. Some of my suggestions have been met with a diplomatic "That sounds ... interesting", and I realise I may have to wait some time before my dream of a milk-thistle stout becomes reality.
It's a shame, because milk thistle is really good for your liver, so you can imagine the sheer awesomeness of a beer that repairs the very damage it might do while you're drinking it.
Part of the problem with coming up with new flavours is that so many have already been done, and done by better brewers than me.
So I can't imagine the world is waiting with its collective tongue hanging out for Mr Kavanagh's special oatmeal stout or raspberry lager.
It's also tough because I want to make a genuinely drinkable beer. I care about beer deeply; it is one of my oldest and most trusted friends and I don't want to muck it about. I love crisp, clean, balanced beers and I love big, old rustic beers that are equally high on flavour and low on subtlety.
Anyway, I must be off now to make arrangements for the most eagerly anticipated beer I have ever eagerly anticipated. Suggestions and hoots of derision to the usual address, thanks, and I'll let you know how I get on. Now what did I do with that recipe for caramelised onion soup ...