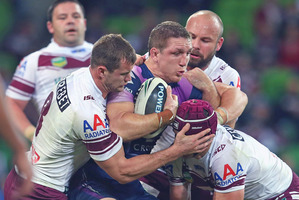 Debate on whether golden point should be eliminated from rugby league has been emotional and full of selfishness.
I was a critic but, having witnessed some exciting games, have changed my opinion.
Some coaches claim the welfare of players is more important than playing 10 extra minutes to gain two competition points; this is comical.
For those who can remember, just like the obstruction rule, it was the coaches who suggested the change to golden point, because they wanted a result.
The argument was that players wanted a result for their effort and the fans would appreciate the same rather than going home frustrated. First, the playing of 10 minutes more over a season is hardly endangering player welfare. Of the very few golden point games played in a season, not many go the full 10-minute period. Second, the argument of player welfare is unfounded and some coaches have used golden point as an excuse to vent frustration over other issues.
It's true the extra period has turned into a dropped goal-fest because it's the easy option. No team is seeking to score a try. I ask how many coaches have a strategy for the golden point period - not many, given the display by teams.
Teams are continuously heading for field position. So who is to blame for the dropped goal tactic? The strategy is wrong for how it looks to the fans and it's too predictable. Everyone knows what the attacking team is trying to do.
There is a need to show more creativity as in normal time, if boring field goal attempts are to be reduced. I haven't heard of many fans critical of golden point. They find it exciting and are on the edge of their seat because of the sudden-death nature of the extra period.
How many fans go and buy a hot dog when golden point is being played? How many fans change TV channels? They enjoy the contest just like I do and stay until the winner is found or time is up; that proves the exhilaration generated.
One solution that may appease most critics is to make it a golden try/point (a new name is needed). As soon as a try is scored, the game is over. This would encourage teams to create tries as normal and reduce that scramble for the field goal. During extra time, allow the field goal but play would keep going until a try is scored.
If at the end of 10 minutes no try is scored but a field goal is kicked, then the goal counts and a winner found. This does not prevent field goal attempts but will reduce them.
It's not a perfect solution but is one that delivers a new dimension to the extra time and at least may open debate in finding one.