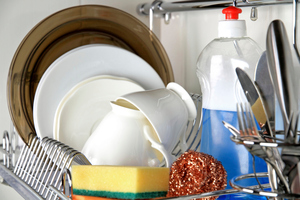 "Bloody tea-towel, stupid pot, ridiculous dishes," I muttered before throwing the half-clean pot back in the sink and stomping off to the bedroom.
It was day three of the supportive wife experiment, and things weren't looking good.
Last week I detailed my reasons for spending my time focusing on my husband rather than myself. He is the busier person this year, and for once I was going to set my career to one side where it could tap away on the laptop gently earning a living while I put on my apron.
I would clean, wash, cook and generally look after him rather than putting my own needs first.
I have received resounding support from the entire memberships of bridge, golf and bowling clubs throughout the country. Women of a certain age applaud me. I am the unintentional poster girl for traditional womanhood. A cross between Aunt Daisy and Muriel Newman. Even Grapevine wants to interview me.
Which isn't very sexy. I was hoping my movement would be more of a new exploration of feminism charting a new course addressing gender balance. It would take the man and the woman out of the relationship equation and test the waters of simply being kind and supportive to the one who needs it.
"So what you're saying," said a confused friend, "is that if I'm nice to my husband he'll be nice back?"
"When you're nice to your friends are they nice back?"
"Well, yes."
"Then why not be nice to him? There is no rule which says to be a feminist you need to treat your husband like an idiot and a slave to prove the point."
She got on the phone and treated her husband not like an idiot but a bit like a slave.
Others were not so impressed. My mother called it an "interesting choice", and a few of my friends had to be held down and made to recite "supportive does not mean submissive" 10 times.
After years of corporate bullying, I rather like being in the serene confines of my kitchen. That was until I cooked and cleaned for three days running. I was washing up the pots from a rather spectacular dinner I had spent most of the day cooking when my husband made the mistake of slipping into our old routine and picked up a tea-towel to help.
I saw my out and took it, but not before blaming a pre-condition. I can't remember which, pre-menstrual or pre-menopause; the way my body's behaving it could be either.
"I'm not actually enjoying it," said my husband after he brought me a cup of tea in bed. "I like pulling my weight."
"Nonsense," I said. "This is important to me."
The next morning I set about arranging the Autumnal Feast I had planned for Sunday, to which seven of our close friends were invited.
They are all good cooks and even better drinkers and it was a priority that everything was perfect, down to the first cocktail, the last gougere, and the slice of duck egg sponge.
A visit to the Avondale Markets in the morning was a must. I would take my trolley bag and stock up on fresh food a la French housewife, then go back home to clean, polish, dice, steam, whisk, bake, casserole, slow-roast and voila, my way into supportive wife heaven.
"Do you want to cancel?" asked my husband as he brought me yet another cup of tea in bed where I was nursing a cold with a side of fever that had appeared overnight.
"I'm sure I could manage the sponge," I coughed weakly.
He did the market, the cooking, the cleaning, the cocktail making and by the end of it most of the entertaining.
I sat at the end of the table as our friends cackled and crooned through the fabulous meal which I couldn't taste. I leaned on my husband's shoulder as the Panadeine and alcohol took effect and my dear friends faded into a haze of fever.
Eventually I lost my voice, so there was nothing for it but to shamble off to my bed leaving them to it.
"So much for the supportive wife!" one of them joked, nudging the person next to them, who happened to be my husband.
"Brave," he said.
"Awkward," said someone else.
"Who's for more sponge?" said my husband quickly.