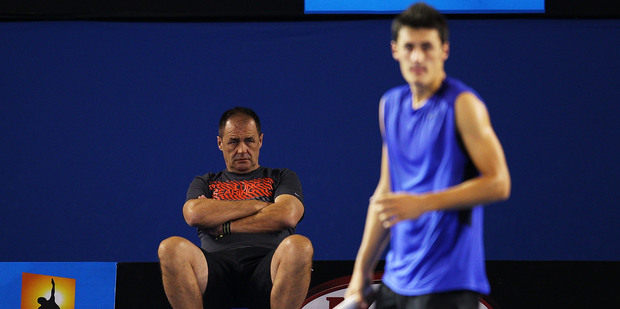 When my daughters were kids, I had a brief flirtation with being a tennis dad. The condo where we lived had a tennis court, my girls were at a coachable age and I looked at the top women in the world and concluded that, while the best players on that list were unquestionably world-beaters, the rest of the top 100 were not exactly untouchable.
I could see there was a more than decent living to be made and, if I'm honest, the prospect that the girls could keep me in a fashion to which I could rapidly become accustomed. So I booked them in for lessons with the local tennis pro.
Hopeless. I'd have done better booking the cat in. Not only could they not hit the ball, they exploded with laughter at their own failings and generally convinced me that they'd have more chance of becoming astronauts.
But people like John Tomic, father of Australian tennis prodigy Bernard Tomic, may not have let it rest there. Tennis has an unusually high percentage of parents - mostly men - whose stewardship sees them push their kids beyond mere effort and into the realms of obsession.
It goes way beyond the you'll-thank-me-later syndrome of parents insisting their children, for example, keep up piano lessons.
The psychology of tennis dads (and the occasional mum) sometimes also heads past Reasonable Land and straight for Weird and Dangerous Territory. Tomic has been suspended from the ATP tour until further notice following an appearance in a Madrid court recently, accused of headbutting his son's French training partner Thomas Drouet, allegedly breaking his nose because the Frenchman hadn't bought some milk. Tomic denied the charge, saying he acted in self defence, and will return to court this week.
It's not his first dance with controversy. Drouet now says he has witnessed Tomic senior hitting his son. In 2006, John Tomic was involved in a road-rage incident that prompted unproven allegations that he had attempted to run another car, containing other tennis coaches, off the road. He has allegedly threatened officials, journalists and coaches.
Nor is he alone. Damir Dokic, father of Australian Jelena Dokic, whose promising career may have been derailed by her father's behaviour, admitted beating her.
He was jailed for 17 months after threatening to blow up the Australian embassy in Serbia; also claiming he would drop a nuclear bomb on Sydney and kill an Australian in retribution for his Serbian daughter gaining Australian nationality.
Jim Pierce, the Canadian ex-convict father of majors winner Mary Pierce, was said to have emotionally and physically abused his daughter in support of her rise up the rankings - and had several episodes of public rage, apparently punching another spectator at the 1993 French Open and becoming the man who caused tennis to pass a law banning abusive conduct on the part of players, coaches or relatives. Pierce once famously yelled: "Go on, Mary, kill the bitch", before hurling his soft drink can at an opponent. Mary eventually took out a restraining order against him.
Richard Williams, father of Serena and Venus, once called Pierce "the best parent I have ever known". That's the same Richard Williams who, legend has it, interfered with his now ex-wife's birth control pills so she bore him more children; he'd seen the riches that tennis offered. He has now become a father again, at age 70, with his 33-year-old second wife, Lakeisha. Williams was divorced from first wife Oracene in 2002 - three years after she turned up at a US hospital with three broken ribs. No complaint was ever made; no charges ever laid.
Frenchman Christophe Fauviau spiked the water of an opponent of his promising tennis son in 2003. The 25-year-old victim passed out while driving, dying in the crash. Fauviau was jailed for eight years.
Andre Agassi's obsessive father Mike is a famous case. So, too, teenaged prodigy Jennifer Capriati's father Stefano who, like Dokic, had a deleterious effect on his daughter's career and who once said: "When the apple is ripe, eat it. Jennifer is ripe." Maria Sharapova's father Yuri once made a throat-slashing gesture at Justine Henin.
Money, of course, is a factor in all this. So, too, the exposure and the thrill of living a life through the success of your children. But there seems to be something more: control.
There are mad mums as well as bad dads. Judy Murray, mother and manager of Andy and maybe the closest thing the UK has to a tennis parent, once wrote in the Daily Telegraph that she knew parents who kicked their dog when their child's opponent missed the first serve. The dog would bark, hopefully increasing the chances of a double fault. Jimmy Connors' mum Gloria was a noted tennis mum who once yelled at her son during a match: "Kick him in the slats, Jimmy."
Manipulative mothers are nothing new - it is a woman's main weapon in the battle of the sexes, after all - but the extreme examples of control and abuse lie with men.
It almost seems like the crime of rape; it's partly about sex, of course, but it is more, for some men, about control over women. That maybe helps explain why tennis has so many more instances of pushy and extreme dads than other sports.
After all, the nice guys like Bjorn Borg, Roger Federer, Rafa Nadal, Pete Sampras and even Novak Djokovic did it without any of this nonsense, right? Well, not always. Borg played a tennis ball against his garage door for eight hours every day. Nadal was forced to play with his left hand because a tennis pro uncle thought it would give him an advantage (he was right). Djokovic was famously encouraged by his parents to practise in an abandoned swimming pool in Belgrade - he got there and away every day before the US bombers arrived.
It seems, in the intense, focused and rich world of tennis, that obsession is a key quality. If you have a parent tending towards the extreme, if not a downright nutbar, you have a good chance of success.