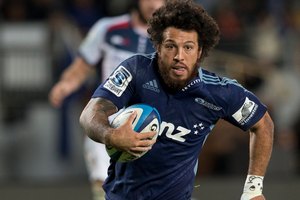 The video was called Rugby Smart. It came from the NZRU and I watched it as part of my coaching responsibilities in club rugby.
It was fronted by a bloke called Conrad Smith. He talked about the importance of putting your head in the right place at tackle time.
I first saw that video about two weeks after he first knocked himself out by putting his head in the wrong place. He's supposed to be a smart man, with a reasonable IQ - but none of those things gel with what he did last week; he again put his head where it shouldn't go.
That has caused, I'll bet, a bit of worry in the All Blacks. He's a key man, not just in leadership terms but in reading the game and on defence. Put that with the absence of Richard Kahui - even his Japan contract is supposedly in the balance - and the fact that Ma'a Nonu's knee has been bothering him all season and you have a pretty concerning midfield problem. Smith, I'd say, will be out for longer than just a few weeks this time, with his concussion past.
But do we really have a problem? Last week, I talked in part about the Fitzy syndrome - giving young, form players a chance and not being too surprised when they grab it. To me, it's a form versus experience debate. Sure, you can have (and should have) experience. But I believe a team can only stand so many out-of-form experienced players and there must be form players there to capitalise on that experience.
So, with that in mind, who might fill the All Black gap in midfield? First, let's have a look at those who might play round them.
If Kieran Read can get back in time, you have a No 8 who offers a firm footing in the 8-9-10 axis that the All Blacks (and any rugby team) need. Piri Weepu and Dan Carter complete the roll call. That's a highly stable axis.
At fullback, Israel Dagg - the shock of being dropped had a salutary effect, didn't it? He came back strong. On the wing, you'd probably have Julian Savea, although I'd argue he needs to do more of what he did in the second half against the Cheetahs in the next three or four weeks to show that his head is in the right space. On the other wing, I'd go for big Blues winger Frank Halai. Most people will go for Hosea Gear (and I think the All Black selectors will too) but, again, I can only tolerate a few 'experience' players ahead of 'form' players.
The midfield comes down to combinations. The selectors may go for Tamati Ellison at 12 and Ben Smith at 13, although that would be short-lived with Ellison off to Japan. I'm told he played well in his comeback against the Sharks. Smith has not played much in the centre role. Ryan Crotty is another possibility at 12.
I'd go for the Blues' Rene Ranger at centre and Francis Saili at second five-eighth. Inexperienced, I know, but Ranger has done the business this year and he and Saili have played consistently well.
Okay, that might be a raw backline but look at the whole team. There'd be plenty of experience in the front row with Keven Mealamu or Andrew Hore, Owen Franks, Ben Franks and Wyatt Crockett. Pick two of the three of Sam Whitelock, Luke Romano and Brodie Retallick at lock; there's two or three candidates for Richie McCaw's No 7 jersey and the likes of Liam Messam and Victor Vito to fill blindside even before you start looking at younger blokes such as Brad Shields and Steven Luatua.
That's a pretty good mix of experience and form right there and I think they'd do a pretty good job against the French. Remember 1986 and the 'Baby Blacks' against the big, bad berets? We all know who won that one and what it meant for New Zealand rugby.
Just as then, we may need some of these blokes when it comes to World Cup time. Makes sense to give them a go now.