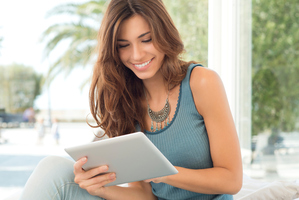 Looking for ways to get "as new" electrical goods without paying full price? Don't want to risk buying second-hand on Trade Me? Then why not buy "refurbished" items. These are often phones, tablets, computers and other electrical goods that may have been shop stock, returned to the manufacturer, or former lease items that have been restored. Many big manufacturers such as Apple, Uniden, Hewlett Packard and Sony sell refurbished goods in New Zealand.
It's quite common for computer retailers to sell refurbished products. Often they are ex-demo or ex-lease computers and laptops. PB Tech, PTL Computers and others often have such deals.
Although there are savings, they're not always huge. A refurbished 16GB fourth-generation iPad 4 was $659 on Apple's website this week. The cheapest locally sourced one I could find on the same day was $724 at 100 per cent Heathcote Appliances. Whether the $65 saving makes buying the refurbished item worthwhile depends on the circumstances.
Buying refurbished goods comes with risks. A number of Consumer members have reported problems with refurbished iPods and iPhones, although these were refurbished goods given in exchange for faulty products, not sold through the website.
An adviser at the Ministry of Business, Innovation and Employment said this week that providing a New Zealand "supplier" sold the goods, they must comply with the Consumer Guarantees Act (CGA). Whether it can be proved, however, that a refurbished item should have lasted as long as a new one is a moot point.
There is also a question of what "refurbished" means. Many shoppers would consider it to be restored to new condition. But there isn't an official description. I quite like online seller NZ Laptops' approach - grading refurbished items from A-D. An A-grade laptop should be pretty much indistinguishable from new, whereas other grades could be considered commensurate with "secondhand".
It's a good idea to find out about the warranty. Many refurbished goods I looked at this week had only three-month warranties. Some required you to pay for the cost of return. Unless the item is incredibly cheap I'd expect the same warranty as a new item.
Uniden and Apple offer the same warranty as new product and do not differentiate between how they handle refurbished goods and new goods. Mark Sole, product development manager of Uniden, says: "If there is a problem, we make it right with a replacement or refund."
What's more, even if the refurbished goods are supplied from overseas, Apple still complies with the CGA, the local director of corporate communications, Fiona Martin, told me this week.

Mother's Day deals
• The Warehouse: bunch of 10 roses, $12.99.
• Noel Leeming: Sunbeam Heated Throw, $89. Save $80.
• Briscoes: Caffe a Casa coffee pod machine, $149.99.
• Farmers: Kate Moss Lasting Finish Rimmel lipsticks, $10.