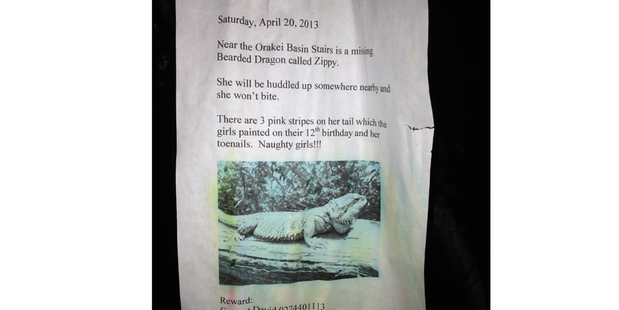 "I see a few posters for lost dogs or cats during my morning runs," says Simon. "But this one on the Orakei Basin walkway caught my eye. I think if I saw a dragon in the half light I would have had heart failure, painted toe nails or not!"
Money vanishes in bank
"On Tuesday afternoon I went into my local bank," writes a reader. "I deposited cash from my flatmate for the rent into one of those fast deposit banking bags and tore the receipt off so I'd have it for my records. Later that night the money's not in the account. Call the next morning to find out that the bag had never been processed. What?! Then went to the branch itself to check. The bag was not in the ATM. So where has my money gone? Rent is due and it's our first week in a new place so I don't want to get offside with our new landlord. Best the bank can do is get the processing centre to call me about it. Surely it will be on camera that I did deposit a bag into the fast deposit drawer, yet they have no paper trail of it!"
Pharmacy caught out in cutting edge rip-off
"Talk about airport pharmacy double standard," declares Belinda. "Women's disposable razors were $17.95. Men's disposable razors were $3. I don't think my legs will care about the difference," she says.
Budget heart clinics get whole family involved
Indian cardiac surgeon Devi Prasad Shetty has built "no-frills" medical clinics in southern India and is charging just $800 for heart surgery. Inspired by low-cost airlines that keep their planes in the air as much as possible, the operating theatres at the clinics are open long hours. Air-conditioning is restricted to operating theatres and intensive care units and visitors are expected to change bandages and do other simple tasks.
Little boy banned from kindergarten for mohawk hairstyle
Ohio's Clark Shawnee School District barred Ethan Clos from returning to kindergarten until he gets rid of his mohawk haircut. They say it violates a dress code ban on distracting dress or grooming. When a local TV station asked why Clos must change his haircut while a local high school coach had been allowed to sport a blond mohawk, the superintendent said the two situations were completely different. (Source: Reason.com)
Picture this: Cats that look like male models...
Office hack: How to make symbols with your key board....
Quick clip: This is really quite disconcerting and sad...(a dog sounding like its crying over the grave of its owner)
Not Satire: The ODT has this story about a missing goldfish on its front page yesterday.
Video: US talk show host Jimmy Kimmel's "Lie Witness News," segment asks concert-goers at this year's Coachella music festival what they think of a whole heap of made up bands...
Got a Sideswipe? Send your pictures, links and anecdotes to Ana at target='_blank'>ana.samways@nzherald.co.nz