Marrying Mr Right won't safeguard you from the sometimes terrifying randomness of life.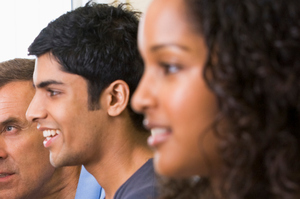 Mum, that's as beautiful as Princess Leia and Han Solo kissing against a sunset.
I find this a somewhat disturbing sentence from my 8-year-old daughter. I thought I had thoroughly brainwashed her as far as gender-roles go. But I obviously need to swing into Lara Croft attack mode and cluster-bomb any residual candy-floss pixie-dust fantasies about romance and marriage.
I have become aware of late that the whole marriage fairy-tale construct is still alive and well even among young women who were brought up on PC stories like Princess Smartypants (who just wanted to live in her castle with her pets and do exactly as she pleased). How can it be that educated, intelligent young women who use words like dirigisme and understand Chinese geopolitics are actually Disney Princess Zombies in disguise?
Bright female graduates still seem to think their would-be husbands are going to beep down in a twinkly spaceship and rescue them from drudgery.
The latest reminder that this crazy-making myth is alive and well is Susan Patton, who became an international media sensation last week when she wrote a piece for her former university, Princeton, urging young women to be quick about snagging a Princeton man, like her son. She stated that one of the main goals for female students attending her school should be finding a husband that will come up to their high standards. "For most of you, the cornerstone of your future and happiness will be inextricably linked to the man you marry," high-achiever Patton writes.
To repeat the emetic comment from another high achiever, Facebook's Sheryl Sandberg: "The most important career choice you'll make is who you marry."
As a graduate of Melville High School in Hamilton, I can tell you Ivy League broads something for nothing: this is top-shelf drivel. To clarify: I'm not against marriage. My parents were married for 58 years and had a bath together every morning where they would discuss liberal politics. But when it comes to advice to snare a rich husband, my mum, who got a law degree and an LLM in her 60s, would be the first to say "Amazeballs". Actually, she might not, but she would agree it's utter tosh to expect a man to rescue you.
I am constantly surprised that modern women, who in many other regards are Tina Fey-level cynical, are still under the misapprehension that they're going to find their identity in marriage. This will be to a man who is higher status than them, possibly an internet tycoon in a black turtleneck who despite ruthlessly making billions is also uncannily sensitive. This man does not exist.
News flash ladies: men who have their own helicopters do not read Oprah's Book Club suggestions and have deep-eyed talks about intimacy. How can it be that you suckers are still buying this con? Rip off your frilly bonnets and get into the real world.
Even if, for argument's sake, you do find this logically implausible man, marrying him is no guarantee of endless back rubs. Life does not always turn out how you planned. (Disclosure for non-regular readers: I'm divorced.)
Sheryl Sandberg says women should think carefully about who they marry but does anyone choose a betrothed because: "He looks like he will take up residence on the sofa and smoke pot and play X-Box for years at a time?" or "This one will be a keeper till he runs off with his Bikram Yoga instructor?"
Marrying the "right" man is never going to be a safeguard from the chaos and insecurity of life. People change, people leave, people get sick. No matter how many Ivy League degrees you have you're not immune from the terrifying randomness of life and its inevitable disappointments.
Having a high-status role as a bourgeois wife is no safeguard either. The inner strength to cope with failure and regret is something no one else, not even the wealthiest most feathery-stroker husband, can give you.
So, unlike Patton, the advice I would give to young women at university is to fill your head with lots of interesting ideas (dirigisme means a hands-on interventionist government). Deciding who you are going to be is far, far more important than who you marry. May the force be with you (but going solo rather than with Han Solo.)