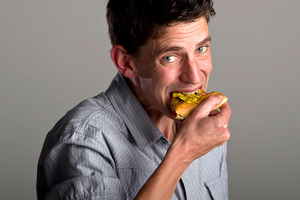 Even for a fast food slob, the hotdog-stuffed crust pizza is a strange proposition.
My boss had challenged me to eat one in a single sitting.
Starting on the inside was stupid. Pineapple, dough, green pepper and cheese soon give way to a bizarre sensation. Years of fast-food conditioning make the hotdog-pizza collision an odd sensation. Still, I'm hooked, if only because I sacrificed lunch for this.
Belching begins with a slice to go. Close to the finish line, regrets emerge, the mind wanders and I think of the waterfront. Are hot dogs prime beach fare? Is the saltiness taking me back to the sandy, garbage-strewn beaches of my youth?
Burping builds to near retching a few minutes after the final mouthful. A senior colleague comments: "Have a pleasant evening on the lavatory."