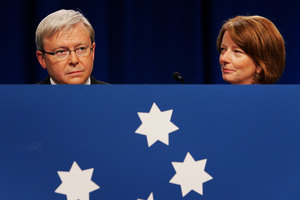 I thought our parliamentarians were behaving oddly.
And they are, what with David Shearer being the latest victim of the galloping amnesia that has infected so many of our MPs in the past, including the Prime Minister.
In Shearer's case, he forgot he had an offshore bank account when it came to declaring his assets on Parliament's register of pecuniary interests.
John Banks made great sport of that, mostly because Shearer had been so scathing of the Act leader's own memory lapse when it came to his dealings with Kim Dotcom.
Then we had Peter Dunne telling the country there would be a new tax introduced for those who enjoyed company car parks, only to have John Key say yeah, nah, that's not going to happen.
Not daunted, Dunne forged on to announce his plan for a tax on company cellphones and laptops - only for the Prime Minister to gazzump him again with another 'yeah, nah, that's not going to happen either'.
To top off a couple of weeks of odd behaviour, that nice Pita Sharples, co-leader of the Maori Party, went all Kim Jung Il on it and declared himself Beloved Leader for Life of the Maori Party, which left Te Ururoa Flavell wondering what he'd have to do to knock the old rooster off his perch and Tariana Turia trying to ameliorate things by suggesting everyone could be a leader.
So yes, the bats are loose in the parliamentary belfry.
But then came the shenanigans from across the ditch.
The attempt to topple Julia Gillard was, to the impartial bystander, the most impotent, insipid, pathetic attempt at a coup I have ever witnessed.
Gillard and Kevin Rudd appear to have done irreparable harm to the Labor Party and Tony Abbot must have the fabric swatches and paint charts out already in preparation for doing up the lodge to his own liking.
Looking at the debacle that was the Labour leadership coup this week, I decided, on balance, our own MPs weren't so bad after all.