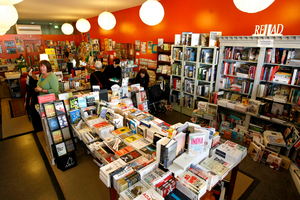 It's New Zealand Book Month. If you plan to buy books, then this month is the time to do it. For the entire month you can get $5 off any book or book product with an ISBN (bar code) costing over $10.
To qualify you need to get your hands on a voucher. They're being distributed to schools, letterboxes, Caltex stations, BNZ branches and participating booksellers such as PaperPlus, The Warehouse, Whitcoulls and independent bookstores nationwide.
A voucher to cut out and keep appears on p39 of our Living magazine today. Or you can download it from www.nzbookmonth.co.nz.
A number of bookshops run additional special offers during NZ Book Month. Whitcoulls, for example, offers $5 off virtually anything else in the store if you spend over $25. That's a good opportunity to pick up merchandise that never seems to come up on sale.
If you buy greeting cards, there is another good deal coming up later in the month at Whitcoulls.
The bookseller is offering 50 per cent off all cards from March 21 to 24. What's more, canny customers can use the $5 off voucher on top of that, which makes it a great deal.
Everyone has a favourite source of books and more and more Kiwis are buying online - often from the other side of the world.
Interested in what you might pay for a book at various outlets, I went searching for a personal finance book from my wish list called: You're Broke Because You Want To Be, by Larry Winget. Including postage (where applicable) it cost: $13.99 from www.fishpond.co.nz, $14.06 from www.book depository.co.uk, $19.54 from www.amazon.com, $23.89 from www.mightyape.co.nz, $25.95 from Whitcoulls, and $28.49 from Trade Me seller thenile.
If you're buying bestsellers or New Zealand books, the equation may be different.
Top of the Nielsen Weekly Bestsellers List this week was My Brother's Keeper by Donna Malane. Including postage it cost $26.99 at Fishpond, $33.89 at Mightyape, and $26.25 from Trade Me seller ziwico.
It's easy to forget that The Warehouse is a huge bookseller. For NZ Book Month it's slashing the price of many books. Simon Gault's Homemade will be $45, which is even cheaper than Fishpond. Another good deal this month at The Warehouse is Jodi Picoult's The Storyteller at $27.
Book buying isn't always about price. Sometimes it's convenience or the experience. Whenever I need to buy books I walk to Paradox Books in Devonport, browse to my heart's content, and walk away with the books in a brown paper bag - knowing that I've supported the local store.
It would be a shame if browsing died because bookstores couldn't survive. And the Malane book was $30 at Paradox.
More deals
Apple TV box. $145 from The Good Guys stores. In store and online until tomorrow.
$89 car service at Pit Stop. On GrabOne tomorrow.