Paul Henry has a place in the media but he needs to consider his viewers before he finds it, writes Philip Smith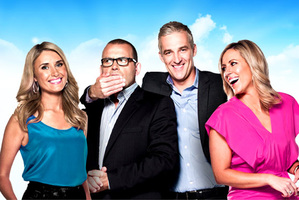 An opinion on a current affairs host? Sadly, like a refrigerator, everyone has one. But as a new team starts a new era tonight as Seven Sharp on TV One, the recent past of the man they didn't or wouldn't sign, a certain Paul Henry, is due some tempered analysis.
The epic failure of Henry on Australian breakfast television is fascinating. I'd venture that TVNZ has dodged a bullet with his no-show on Seven Sharp.
What caused his Aussie downfall? Ego? Hubris? Karma?
Or just an unfortunate experiment from which both nations can learn an awful lot about each other.
Probably the latter.
Henry himself might walk away from the Australian nightmare saying the competition was too tough and his canned show didn't have the resources.
But he would be doing himself, and the event itself, an injustice if he didn't explore the deeper issues that led to his demise.
I had the opportunity to view the implosion from both sides of the Tasman, and few New Zealanders are probably aware that the Australian media took to him with a brutal whip.
Why wouldn't they? If an Aussie took over one of our key shows for a million bucks a year we would probably react the same way.
As Henry stumbled, Australia's state broadcaster ABC described him as "that Kiwi millionaire knob", mocking his presenting style with ruthless elegance.
Henry died by the three Cs of television, namely commercialism, comedy and culture.
As any auntie in New Zealand will tell you, Kiwis and Aussies have slightly different senses of humour. American humour is very much "Level One" humour. The gag is presented to you on a plate.
Aussie humour is "Level Two" humour. It moves to the second beat - but isn't as mean-spirited and dark as "Level Three" humour, which the British and Kiwis seem to love.
Henry, a master of Level Three humour, arrived in Sydney with his razor-sharp tongue at the ready but maybe not fully understanding of the average Australian.
If he had watched Channel 9's Breakfast or Channel 7's Sunrise really closely he would have met two average Australian blokes, Karl and Kochie, presenting their respective shows.
They are the good-guy everyday Aussie, who likes a joke, can sizzle a perfect steak on the barbie, and isn't a prick. Australians like that. It's safe, secure, Level Two humour. And it rates.
Henry arrived all ready to gag with an audience that didn't exist. In his last week before being pulled, there he was, forever Basil Brush, declaring that Cameron Diaz was "a slapper".You could feel the last viewers tuning out.
Commercially, Henry has ground to argue that his show was disadvantaged financially. In the last week of his show, he interviewed someone about a vehicle recall. Over on Channel 7, there was Kochie dancing beside the Opera House to Coldplay - live.
It was a tough gig but money wasn't the real issue. It was the big one: the culture clash.
Kochie on 7 and Karl on 9 - and their very talented associates - had another thing. They are Aussies and proud of it, mate. They are patriotic. Almost every day there are references on their shows to how great Australia is. And why not say it? It's their country. If I was born in Australia I would probably say the same thing.
But Henry could never wake up Australia and tell them how great they are. Because he's a Kiwi. Clunk back to 7 and 9.
What a hiding. For someone so clever it is surprising he didn't see it coming.
TVNZ, I feel, is lucky not to have him at this stage. He doesn't yet possess the full bag of tricks for the 7pm slot. He lacks empathy and connection. His comedy gag is easy: the contrarian which gets very boring very quickly once you recognise the device.
Say, for example, a cute dolphin is on TV. While everyone ooohhs and ahhhs at the dolphin what does Paul Henry say?
He says: "I hate dolphins, funny teeth, nattering, they pester tourists, cause underwater noise pollution." The contrarian.
Then his co-host reacts, gobsmacked: "Oh, Paul, you can't say that!"
He shrugs, grins, then looks away from camera for wider recognition. Repeat this gag daily.
Henry laughed at a mum and mocked her, without any compulsion to question whether or not she had feelings. He attacked her for her appearance - in this case facial hair.
That's why he couldn't carry the 7pm current affairs slot in New Zealand in the near future. Sometimes things are grave. Murders, earthquakes, very real disasters.
Paul Holmes had the full bag of tricks - he was the complete footballer. John Campbell was simply outstanding on Christchurch for over a year.
When Henry was riding high, before the Aussie battering, he took us on a whirl-wind tour of his assets on TV3's 60 Minutes, and over a glass of red in his cabin, told us he's a loner.
When the tables were turned on him at a TV commercial shoot in Takapuna last year, and TV3 chief mockerist David Farrier confronted Henry and asked him why his show in Australia was so piss poor, Henry responded like a insulted, wet, mad rat. It was ... "How dare you question me. How dare you mock me!" He hated it. It was, as Henry himself would say, fascinating.
Henry has undisputed talent. We love Level Three humour and he does it in spades.
He has a huge place in New Zealand media. But he needs to start showing some empathy and analysing his audience before he wades into another disaster.
Philip Smith is the co-creator of Eating Media Lunch and the Unauthorised History of New Zealand and owner of Great Southern Television.