Is Lance Armstrong's televised interview just a cynical attempt to avoid the payouts?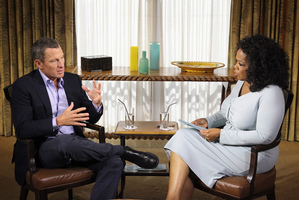 Popcorn time. Later today, thousands of New Zealanders will discover the Discovery Channel for the first time, to gawp with the thrill of amateur anthropologists as Oprah and Lance do it like they do it on the Oprah Winfrey Network.
Watch as disgraced cyclist Armstrong loses himself in his host's deep, trusting eyes. Watch as the tears roll authentically down his contrite face. Watch as the solemn headmistress turns tender nurse, enveloping the reprobate's trembling hand in her own, channelling strength to further breach those emotional dams. And so on.
A weekday afternoon sitting in front of the television watching Americans disgorge their souls. We haven't had a chance to do that since, goodness, at least Monday.
The difference with the Golden Globes, of course, was that we didn't know what was going to happen. Today, in the first of two intense spells of Oprah-meets-Lance, it's a fair bet that it will run something like this.
Approbation. Reflection. Confession. Lamentation. Psychological attribution. Absolution. Redemption.
Oprah's Next Chapter - even the name of the programme evokes some kind of storybook salvation.
If the sacrament-of-penance metaphor holds, then Oprah is the priest, the TV the confessional box, and the viewing public is God.
And the viewing public, in the US certainly, seems almost unanimously furious. It's not just the cheating, and the lying about the cheating - it's the way he's traded off a fraudulent reputation and, especially, the vindictive, ruthless intimidation of those who spoke the truth about doping in cycling.
As Stephen Swart, the New Zealander (and Herald 2012 New Zealander of the year), who bravely blew the whistle on his former teammate back when the American Hero was almost untouchable, would tell you, Armstrong and his team of bullies stopped at little in their efforts to silence or denigrate the "bitter and angry" truth-tellers. Another early whistle-blower, Betsy Andreu, reluctantly recalled this week how "Lance tried to destroy us".
Along with echoes of the confessional, the televised ritual will come with cod-Freudian analysis, and the language of its contemporary stepchild, the self-help book. Expect Lance to lift his gaze after a long breath and say something like, "I didn't love myself enough to tell the truth."
That's precisely what another infamous sporting doper-liar, Marion Jones, said in her pseudo-mea culpa with Winfrey five years ago. She was reading, yuck, aloud from a letter she'd written to her children from prison.
Then, Winfrey's interrogation was about as probing as Captain Feathersword's. We can only hope that this time around she has set out to be more demanding, pushing Armstrong, for example, on the timing of his decision.
Is it a coincidence that the statute of limitations has just freed him from the risk of being done for lying under oath? Will he spill the beans on allegations of complicity within the world cycling body, the UCI? (And, crucially, not in an attempt to get himself off the hook.)
Is his confession really prompted by the burden of "living with a lie" or whatever, or is it a ruthlessly professional calculation: in the wake of the 1000-plus pages of damning evidence compiled by the US Anti-Doping Agency, and the ban it triggered, every reiteration of the Big Lie risked multiplying potential payouts. A burden, indeed.
Perhaps play a clip from a "Driven" ad Armstrong did for poor old Nike, which snarls at those "critics [who] say I'm arrogant, a doper" over shots of people recovering from cancer, all in the cause of selling shoes.
And please, please, do not let him get away with saying that he lied and lied because he could not bear to hurt those who had gained strength from his battle against testicular cancer, and his Livestrong charity.
In a bitterly funny blog post this week, TV3 sports journalist Shaun Summerfield demanded that Armstrong refund him $290 - the cost of two autobiographies and a branded cycling shirt.
Armstrong is facing a host of claims for compensation from large organisations, including a newspaper that paid him thousands to settle a libel claim and a rapidly swelling federal lawsuit, but with an estimated $100 million to his name he is hardly on the brink of penury.
A more meaningful symbol than today's Oprah pageant would be Armstrong spending whatever is left of that $100 million reimbursing Summerfield and every fan who lined his lycra pockets. Every event ticket, every book, every bit of branded kit: all bought under false pretences. Send him a bill. Redemption? Start with reparation.