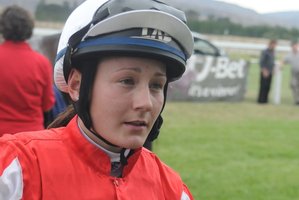 Jockeys can be annoying at times. Like when they cancel race meetings at the slightest signs of a dodgy racing surface.
Next time you think of bad-mouthing them for it, think of AM - Ashlee Mundy.
Racing can have its dangerous elements - 500kg animals racing at the same speed as cars is not without problems.
And here's the thing that you can never forget - jockeys are racing's only participants that are asked to put their lives on the line.
Ashlee Mundy put her life on the line at Kurow last Sunday and it was taken.
The knee-jerk reaction from all levels of authority is to declare a tightening of precautions.
Fact is, there are no precautions.
None outside of ensuring all jockeys are at the highest possible standard of competence and that racing stewards strictly and fearlessly enforce rules around careless and dangerous riding.
When you put A$6.3 million on the line as they do in the Melbourne Cup now, there is no tomorrow.
The fortunate thing is that in such races you have riders of extraordinary competence and the fatality factor, though able to be seen in the extreme distance, is close to being put out of play.
Four or five weeks ago this column mentioned that jockeys are required to put their lives on the line, suggesting we always keep that in mind.
"Going soft on jockeys, aye," was the cynical call from a few.
Yes, I am a jockeys' manager, but that's not the reason I made that call.
Neither is this, but it's a factor - what now seems like a long time ago I lived close to Papakura jockey Tony Williams.
We became very good friends and no one was more pleased that Tony became a high-profile rider.
It was Tony who was in the hospital theatre with me when I badly shattered an arm. It was 2am Saturday before it was sorted and Tony had raceday rides starting nine hours later. How hard do you imagine it's been for me to see Tony in his tetraplegic wheelchair since a year after that day.
Extremely. It brings a lot of things home to you.
One is that if a jockey wants to go home early on a raceday say: "Good onya."
We've got two of a lot of things - lives ain't one of them.