Hard to be mean when others grappling with their own terrors are much meaner.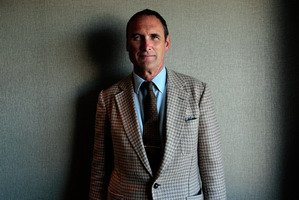 Oh help. I'm just not feeling terribly mean this week. Which is a potentially career-limiting problem for a columnist.
Oh, I'm sure my inner She-Wolf will howl again, but you know, sometimes it is wearying being a constantly outraged middle-class biddy.
This week's weakness I blame on my dad and A.A. Gill.
My father, who is 82, is a very clever man, a neurologist with special interest in chaos theory and the brain.
But since having a stroke three years ago he can't read or talk any more.
He lives on his own in the brick bungalow in Hamilton where we moved in 1975 and that is full of books he can't read.
The roses still look beautiful.
He listens to classical music and sometimes a bit of Ella Fitzgerald and he likes caramels and his box of Blenheimer wine.
My mum died this year and my sister and brother and I go to see Dad every Friday and take him to do his shopping at Pak'n'Save. We mow the lawn.
This weekly experience of getting shouted at by Dad, although seemingly a drag, is strangely uplifting and makes me feel like being less of a cow the rest of the week. So, thanks Dad.
Also, A.A. Gill, once the patron saint of Gina Hardfacebitches everywhere, has turned out to be less than heroic.
Gill is a famous English writer and restaurant critic known for his deadly putdowns, like a posher Joan Rivers. "The back ribs were like eating the evidence in a war-crimes trial."
But Gill, 58, whose real name is Adrian, was not considered very funny after he reviewed a television series presented by classicist Mary Beard, 57, on her specialist subject, the Romans.
He said she should be kept away from the cameras altogether because of her looks and that she belonged on The Undateables, a reality programme about the romantic difficulties of the disabled and facially disfigured.
Beard looks just like you imagine a scholarly Cambridge don should look - she has long grey hair and no makeup.
She'd fit right in at Hamilton Pak'n'Save.
Full disclosure: When A.A. Gill was speaking in Auckland a year or so ago I asked him a question during the public question time - the last question.
It was something like, "Your writing is very funny but isn't it basically because you are a shit?" His response was: "Don't worry your pretty little head about it."
Which is odd because I am 45 and my flattering picture aside, in real life I look more like Beard than a Kardashian.
A.A. Gill is a well known public figure in Britain and when interviewed he makes much of the fact that he was an awkward, dyslexic kid.
He was also an alcoholic and an addict. Presumably he is supposed to be forgiven for being a bastard because he has overcome these impediments.
It is good that we have become a more compassionate society so these days it is considered "courageous", like Gill, to step forward and admit to certain weaknesses or flaws.
Dyslexia and addiction are acceptable, even trendy, vulnerabilities.
It represents progress that these problems and some mental illnesses can be talked about. But it is odd to me that our deepest, most ordinary and obvious weaknesses and frailties - the ones which aren't in the Diagnostic and Statistical Manual of Mental Disorders, Fourth Edition, aka DSM-IV - are still unmentionable.
It may be cool in polite society to admit you had bulimia or depression, but other mental illnesses not suffered by John Kirwan or simply being your normal ageing self, with all its signs that you are getting older and weaker, still scare the heebie-jeebies out of everyone.
So the message is clear: please put on a false self, dye your grey hair, get Botox, so you don't remind us of that terrifying ordeal of ageing - and death - which we will all face. I wonder how Gill feels about getting older.
Psychologist Linda Martinez-Lewi says ageing for the narcissist holds a special horror. "There are consequences to living a false life. When life is performed rather than lived, it is hollow inside. The emotional residue of acting at life, rather than living it, is despair."
Now I am the one being a shit. Whew.