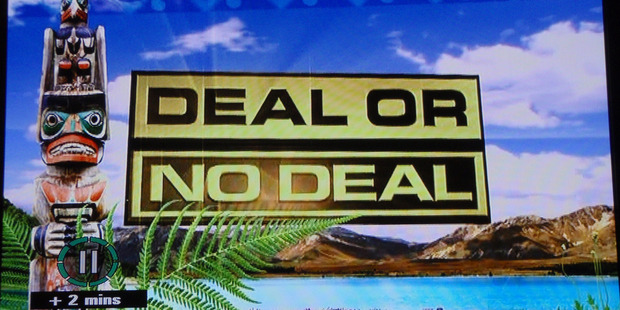 Chris writes: "The game show Deal or No Deal here in Sydney is having a run of New Zealand specials. All the promos show an American Indian-style totem pole next to New Zealand scenery. Has New Zealand's culture changed that much since I've been in Aussie?"
Keeping things plumb
A reader writes: "My partner and I got home from work and noticed our old, crooked, wooden gate looked different. Someone had taken the palings off, straightened them and nailed them back on, lining all the new nails up nicely. The only person who had been near the house was our plumber ... so I emailed him and - mystery solved. A big thank-you to Paul from Chris Ryan Plumbing, Cambridge, for his MacGyver moment! A lovely surprise (especially for new home owners whose tools so far consist of an axe and a spade)."
Playing Seal on Bin Laden raid
Rounding a corner, gun in hand, you face Osama bin Laden and ... panic? Shoot?At the Sealed Mindset Studios in St Paul, Minnesota, former Navy Seal Larry Yatch charges people $325 to re-enact the Bin Laden raid with a paintball gun.
Simi Patnaik was shocked by a screaming "Bin Laden" when she ran through the course. "I started screaming back, like, aah, just, like, shooting indiscriminately, so I would not be a particularly good Seal."
- Via Newser.com
Arrested for lack of a smile
Police in Surrey, England, arrested Mark Worsfold for not smiling while watching an Olympic cycling event. Police say his demeanour made them fear a "possible breach of the peace". Worsfold says he has Parkinson's, which makes his face rigid.
- Source: Reason.com
Sobering slang
The Dictionary of American Slang (1967) includes some wonderful euphemisms for getting drunk ...
1. Pigeon-eyed
2. Full as a tick
3. Swacked
4. Preserved
5. Soapy-eyed
6. Seeing snakes
7. Canned up
8. Pruned
- More at www.mentalfloss.com
Home on the Grange
"No doubt others may have noticed, but your reader said the Grange is a Manurewa golf course," writes Tony. "It is, in fact, in Papatoetoe. The Manurewa course is Manukau. I happen to know, as I have sprayed too many crappy shots around the Grange."